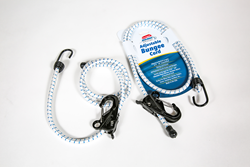 We are excited to bring our newest product to market after such a great response when we unveiled the Adjustable Bungee at the National Hardware Show in Las Vegas earlier this year.
POMONA, Calif. (PRWEB) September 21, 2018
Danik Hook, an amazingly simple and easy to use tool to quickly tie-down anything, is the National Hardware show's reigning winner of its prestigious Retailers' Choice Award for outstanding and innovative design of consumer products.
This year, Danik Hook gives a new twist to the age-old bungee cord. The new Danik Hook Adjustable Bungee lets anyone easily and quickly adjust and secure a single length of the elastic cord from six to 48 inches unstretched.
"Most people carry a tangled web of different length bungees in their car trunk or truck utility box," said Daniel Austin, the inventor of the Danik Hook. "One Adjustable Bungee does the work of a dozen different length bungees."
The versatile Adjustable Bungee Cord includes an unstretched 48-inch American-made shock cord with a Danik Hook Mini adjustable universal line length hook on one end, and a stationary hook on the other end. This hook combination gives the user the ability to adjust the bungee cord size from 6" to 48". The quick release lever on the Mini Hook enables the user to pull, stretch and secure the bungee cord to tie-down a kayak, bike or bags of groceries in a flash. It can also be used in the garden, campsite or at a park gathering or sporting event. Danik Hook has also worked hard to get the initial unveiling retail price down from $21.95 to $13.95, making it more affordable.
"Just throw it in the trunk or toolbox and wait for the uses to appear," Austin said. "You never know what you'll have to tie-down until the situation arises. But when you need it, the Danik Hook Adjustable Bungee takes the 'jerry-' out of 'rigging.'"
As with the entire line of Danik Hook products, Austin said it's always fun to hear the uses people come up with that he never considered.