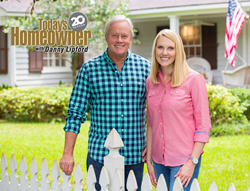 Heating and cooling costs account for nearly half of the average home's energy bill, so taking the time to seal up cracks and crevices will translate into immediate savings.
Mobile, AL (PRWEB) September 26, 2017
Hosts of the nationally syndicated Today's Homeowner TV show - Danny Lipford and his daughter - Chelsea Lipford Wolf, got an early start today, connecting with 22 journalists throughout the morning to deliver fall fix-up advice to homeowners across the U.S. Broadcasting live via satellite from a residence in Mobile, AL, the pair delivered top strategies to improve energy efficiency, weatherization tips to prepare for cool weather and some simple ideas to spruce up interiors for the holidays.
The father-daughter team showed off a cabinet makeover project they're currently working on. Replacing cabinetry is an expensive project, so Lipford and Wolf decided to take a more budget-friendly approach and show viewers how to upcycle original builder-grade cabinets. They demonstrated how to transform cabinets from basic to brilliant, giving them a Shaker-style look by adding simple trim. Lipford recommended using a quality wood glue for the project to ensure long-lasting results. His go-to choice is Titebond Original Wood Glue because it is fast setting and provides a strong bond for interior wood projects and repairs. In addition, it's a water-based glue, which makes for easy cleanup as needed.
Lipford and Wolf suggested a few other simple projects and upgrades homeowners can tackle to spruce up their homes in preparation for the holidays. Their top picks include:

Adding a fresh coat of paint to any room, or using paint to create an accent wall.
Scenting the home using Lipford's hack - adding a few drops of a favorite essential oil to the furnace filter for a great-smelling house in no time.
Adding a backsplash or new hardware in the kitchen.
Next, Lipford introduced viewers to his popular "4 Seasons of Home Ownership" checklist for fall, detailing must-do, could-do, and should-do tasks that homeowners need to tackle this time of year to keep their homes efficient and running smoothly. Saving energy is always at the top of list, so Wolf took viewers on a tour to investigate the draftiest places in any home: exterior doors and windows.
"Heating and cooling costs account for nearly half of the average home's energy bill," says Wolf, "so taking the time to seal up cracks and crevices will translate into immediate savings. Who doesn't want to keep more money in their pocket heading into the holiday season?"
Wolf showed viewers how to install the Duck® MAX Triple Draft Seal, which can be used on just about any interior and exterior door up to 36 inches. The seal eliminates drafts, helps retain room temperature and even has additional fins to help keep out moisture and water. She also suggested inspecting and replacing any worn or cracked weather stripping to ensure a tight seal for exterior doors.
To address drafty windows, Wolf demonstrated how to install the Heavy-Duty Window Kit from Duck® Brand. At a fraction of the cost of window replacement, the kit offers an economical and temporary solution for insulating older, less efficient windows. The window kit is made with clear, puncture-resistant film that is applied with double stick tape and heated with a blow dryer to finalize the seal. When the weather turns warmer, the film is simple to remove and discard. She also recommended checking the outside of windows for any cracks or leaks, and using caulk to seal tight.
To complete the media event, Lipford revealed the #1 home project that yields the biggest return on investment: adding insulation.
"Nearly eighty million homes in the U.S. are under insulated," remarks Lipford, "which can increase energy bills up to 20 percent. The attic is the worst culprit, accounting for up to 40 percent of a home's energy loss, so beefing up your insulation will make an immediate difference in your home's comfort and energy bill."
Lipford says homes benefit from having a minimum of 14-16 inches of insulation in the attic. To evaluate a home's insulation, he says simply look for the floor joists. If you can see them, then the attic is under-insulated. The best way to add more is to use a product that comes in rolls or batts for easiest installation. Lipford's choice is ROXUL's ComfortBatt, which is made from mineral wool. Mineral wool insulation is made from actual stone, so while most traditional types of insulation are highly flammable, ROXUL will not burn, and helps deter the spread of fire. Mineral wool insulation is also resistant to mold and mildew as well as termites. Lipford suggests cutting the batts with a simple bread knife to fit between joists, and laying it directly on top of any existing insulation.
The national media event reached an audience of more than 20 million and was sponsored by Today's Homeowner and home improvement brands Titebond, Duck® brand and ROXUL®.
About Today's Homeowner Media
Today's Homeowner is a trusted home improvement authority delivering fresh, original, practical advice to consumers across diverse media platforms including the top-rated, nationally syndicated Today's Homeowner television show, entering its 20th season and its radio counterpart, the nationally syndicated Today's Homeowner radio show. Additionally, the media brand hosts the top home enthusiast destination website, TodaysHomeowner.com, drawing nearly 2 million monthly visitors, robust social media channels and the award-winning lifestyle blog and web series, Checking In With Chelsea. 3 Echoes Productions, the professional production arm of the brand, serves an impressive national clientele with expert video services.
Host and founder of the brand, Danny Lipford, is among the most sought-after home improvement experts in the country. The seasoned remodeling contractor and media personality served as the home improvement expert for CBS's The Early Show and The Weather Channel for over a decade and has made more than 180 national television appearances on FOX&Friends, Inside Edition, Morning Express with Robin Meade, FOX Business Channel, Rachael Ray and more. He travels the country making appearances as a brand ambassador and spokesperson, and contributes expertise to hundreds of popular magazines and online media outlets each year.