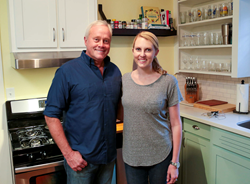 Bathrooms are the biggest source of moisture in any home. If you don't give that moisture a place to go, it will only cause trouble breeding mold and mildew. Good news - a simple vent fan can remove moisture and maintain healthy air.
Mobile, AL (PRWEB) October 10, 2017
Beware the air you breathe inside your home – it may not be as healthy as you think. But what can the average homeowner do? Hosts of Today's Homeowner TV, Danny Lipford and Chelsea Lipford Wolf, addressed that question for an audience of more than 20 million viewers earlier today in a nationally televised media event.
The father-daughter home improvement team broadcast live via satellite from a home in Mobile, AL, connecting with 24 journalists from coast to coast to raise awareness about indoor air quality. October marks National Indoor Air Quality Month, making it the perfect time to inform homeowners on this issue, and help them take practical steps to improve the air they breathe inside their homes. According to Lipford, homes are sealed up tighter than ever before, so it's common for the air inside the average home to become 5-10 times more polluted than outdoors. More and more homeowners are becoming concerned about indoor air quality, but they're not quite sure what they can do to address it.
Lipford and Wolf kicked off the media event in one of the hardest-working rooms in any home: the kitchen. Kitchens have a big impact on a home's indoor air quality because it's the place where grease and other carcinogens become airborne during the cooking process. The home's regular heating and cooling system and air filters aren't enough to handle the heavy pollutant load that kitchens produce. That's why, according to Lipford and Wolf, every kitchen needs a vent hood to exhaust fumes and pollutants outdoors.
Wolf introduced the audience to the Tenaya under-cabinet vent hood from BROAN®. The vent hood offers a modern design to compliment any design, but comes with a smart and powerful 3-speed blower to rid the kitchen of airborne grease and other fumes. One of the best features, according to Wolf, is the vent's duo of micro-mesh filters which are dishwasher-safe.
"Broan is making it easier than ever to maintain a healthy kitchen," she comments. "The biggest challenge for homeowners is to remember to flip the switch! Vent hoods only help if you use them each time you cook."
For optimum results, Wolf suggests running the range hood vent for 10 minutes following cooktop use.
Lipford joined the audience from another room in the home that has a significant impact on indoor air quality: the bathroom.
"Bathrooms are the biggest source of moisture in any home. If you don't give that moisture a place to go, then it will be quite happy to stay put and breed mold and mildew, which means trouble. The good news, is that a simple vent fan can do the trick to remove moisture and maintain healthy air for homeowners."
Lipford showed the audience two vent fan options from BROAN®: Sensonic and InVent. He pointed out that the Sensonic is an innovative option for homeowners who like to take their music with them wherever they go since it incorporates Bluetooth® wireless speakers into the fan itself. Another unique feature of the Sensonic is its UL rating for installation directly over a tub or shower. Lipford also showcased the decorative InVent model, which is a stylish option for any bathroom. Cleverly designed as a high-end light fixture, the vent delivers quality ventilation at comfortable sound levels with a 2.0 sone rating. Installation can be intimidating for some homeowners, according to Lipford, so the InVent is a great option because it can be installed exclusively from the room-side, without having to climb into the attic.
Lipford cautions homeowners on two important items regarding bath vent use:
1) Ensure that the vent is routed to exhaust moisture all the way to the outside of the home. If the vent exhausts in the attic, that could cause problems with mold and mildew in insulation.
2) Turn the vent fan on during baths and showers, and leave on for 20 minutes after use to rid the room of all moisture.
To finish out the event, Lipford and Wolf shared additional tips homeowners can use to maintain clean air indoors. At the top of the list, is regular changing of furnace filters. Wolf offered a hack for homeowners who find it difficult to stay on schedule; she recommends writing the date of installation on the outer edge of the filter so you'll always have a reference point. Lipford recommends using an electrostatic filter and replacing every 2-3 months. He also pointed out the importance of cleaning out the plenum (area behind the filter) regularly using a simple vacuum hose attachment. Additional tips to maintain quality indoor air include:

Introducing live plants in the home to naturally process carbon dioxide and clean the air.
Storing all products containing volatile organic compounds (VOCs) outdoors, or in air-tight containers indoors.
The media tour was sponsored by Today's Homeowner and BROAN®. For more information and facts about indoor air quality, download Broan's infographic. A broadcast-ready clip of the event is available to the media.
About Today's Homeowner Media
Today's Homeowner is a trusted home improvement authority delivering fresh, original, practical advice to consumers across diverse media platforms including the top-rated, nationally syndicated Today's Homeowner television show, entering its 20th season and its radio counterpart, the nationally syndicated Today's Homeowner radio show. Additionally, the media brand hosts the top home enthusiast destination website, TodaysHomeowner.com, drawing nearly 2 million monthly visitors, robust social media channels and the award-winning lifestyle blog and web series, Checking In With Chelsea. 3 Echoes Productions, the professional production arm of the brand, serves an impressive national clientele with expert video services.
Host and founder of the brand, Danny Lipford, is among the most sought-after home improvement experts in the country. The seasoned remodeling contractor and media personality served as the home improvement expert for CBS's The Early Show and The Weather Channel for over a decade and has made more than 180 national television appearances on FOX&Friends, Inside Edition, Morning Express with Robin Meade, FOX Business Channel, Rachael Ray and more. He travels the country making appearances as a brand ambassador and spokesperson, and contributes expertise to hundreds of popular magazines and online media outlets each year.