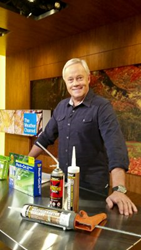 I'm really excited to engage with the Weather audience and see what questions they have about their homes.
(PRWEB) December 20, 2016
America's Home Expert, Danny Lipford, will serve as a special contributor to The Weather Channel for their "First Day of Winter" coverage December 21. He will offer advice to viewers to help keep their homes warm, healthy and safe during the coldest season of the year.
Lipford's advice will debut on The Weather Channel's various platforms including television, digital and social. Weather fans and homeowners alike can tune in to the channel's morning show, AMHQ (America's Morning Headquarters), 5-9 a.m. EDT Wednesday morning, and throughout the day on Weather Center Live at :20 past the hour from 11 a.m. – 6 p.m., to catch Lipford's tips on winter energy savings and home safety.
Web fans can visit weloveweather.tv to check out Lipford's blog, "10 Hacks to Keep You and Your Home Warm This Winter." Readers will learn how to prevent drafts by sealing the envelope of their homes, how to optimize heated indoor air and even a few tricks to stay warm while keeping the thermostat in check.
Finally, to round out the "First Day of Winter" coverage, Lipford will host a Facebook Live event at 9:05 a.m. EDT on the Today's Homeowner Facebook page. He will be on location in Mobile, AL, and offer followers a hands-on look at the most common ways cold air sneaks into the home, and how to guard against heat loss. "I'm really excited to engage with the Weather audience and see what questions they have about their homes," Lipford says. "Harsh, winter elements take the hardest toll on homes, so I look forward to offering some tried and true tips to help keep things running smoothly." Lipford will respond to viewer questions in real-time, offering his expertise and advice for their home questions.
As The Weather Channel's go-to home expert for more than a decade, Lipford is pleased to continue his partnership with the media outlet, providing seasonal advice and information to help viewers keep their homes in top shape and prepared for the impact of severe weather.
About Danny Lipford and Today's Homeowner
For over 25 years, Danny Lipford has offered homeowners credible, step-by-step advice through his various media platforms, including his nationally syndicated, Emmy-nominated TV show Today's Homeowner with Danny Lipford, his nationally-syndicated Today's Homeowner radio show, destination website and active social channels. He has made more than 170 national television appearances on shows such as FOX & Friends, FOX Business Channel, Rachael Ray, CNN's Your Bottom Line, CBS's The Early Show and This Morning. Lipford served as the home improvement expert for The Weather Channel for over a decade, a longtime contributor to Better Homes & Gardens Magazine and BHG.com, and is a source for hundreds of other popular magazines and websites each year. To learn more about Danny Lipford and Today's Homeowner Media, contact Stephanie Greenwood, Public Relations Manager, at (251) 478-3345 x110 or stephanie(at)dannylipford(dot)com.