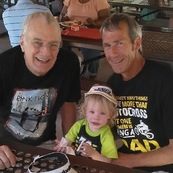 Whenever I design a kitchen, my goal is for the final product to be an emotional experience for anyone seeing it or spending time in it.
Salt Lake City, UT (PRWEB) May 02, 2017
Dan Roberts, founder and owner of Dan Roberts Kitchen and Bath, is celebrating his forty-sixth anniversary in the design industry. "After a long time of being involved in this industry, not one year has gone by without a new learning experience," said Roberts.
Roberts' career began in July 1971 when he was asked to join a kitchen and bath firm known as Craftsman Cabinets. It was here that Roberts, a lifetime resident of Salt Lake City, learned the fundamentals of kitchen and design principles.
Not one to rest on his laurels, after forty-six years in the business, Roberts continues to keep up with the trends, through trade, home and garden shows, and by finding new avenues to showcase his work. Most recently, he partnered up with the Orson Gygi Company, which specializes in "everything kitchen." Roberts currently has five showroom displays at Orson Gygi.
"The relationship with Orson Gygi developed about three years ago via a request from the owner to have kitchen people in the showroom with their clients," added Roberts, who is also the arena announcer for the Utah Jazz. "I was one of about seven people involved and one by one they have all gone different directions. My displays show viewers how their kitchens can look. With the proper design, the displays can be duplicated or can be an influence on the kitchen of one's imagination."
Roberts' passion for the kitchen stems from childhood, when he was always drawn to the warmth and ambiance of the kitchen in his home. "In my family, the kitchen was the center of the house, as it represented all that was good about the family," concluded Roberts. "Whenever I design a kitchen, my goal is for the final product to be an emotional experience for anyone seeing it or spending time in it."
About Dan Roberts, Dan Roberts Kitchen and Bath
Dan Roberts provides job site walk-through, actual physical dimensions and systems analysis, on-site design consultation, coordination of door styling and colors to include cabinetry, tops and all pertinent surfaces, as well as appliance specifications, full subcontractor coordination, full material specifications, job site construction monitoring, job site installation monitoring, including the installation and setup of all appliances, and more. For more information, please call (801) 262-3926, or visit http://www.danrobertskitchenandbath.com.
About the NALA™
The NALA offers small and medium-sized businesses effective ways to reach customers through new media. As a single-agency source, the NALA helps businesses flourish in their local community. The NALA's mission is to promote a business' relevant and newsworthy events and achievements, both online and through traditional media. For media inquiries, please call 805.650.6121, ext. 361.