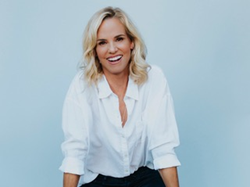 While Dara has been offered substantial deals from others in the CBD space, now being 50+ she wanted to be more than a paid spokesperson; she wanted to be associated with a brand that can be trusted and she truly believes in - Morgenstein
NEW YORK (PRWEB) August 08, 2019
Dara Torres, 12 time medalist and iconic fitness advocate for women and moms globally, sees Canibrands and CBD as a pathway to a better lifestyle and fitness performance in your 40s, 50s and beyond. The diversified product line really impressed Torres, "I have been called by 50+ companies offering me opportunities to work in the CBD industry. It was only when I tried Canibrands' products and experienced the benefits first hand, did I see a company with innovative next generation products and a philosophy on sport, fitness and wellness that matched where I am as a 50+ woman determined to achieve greatness in my own life everyday in and out of the gym".
CaniBrands products include CBD-infused body balms, skin creams, and vitamin-packed sublingual oils and oral sprays in four positive experiences: Can-i-Boost, Can-i-Fresh, Can-i-Mend and Can-i-Sleep, creating the most comprehensive selection of experience-driven CBD-infused products. Delivering sophisticated formulations for fitness, wellness, and sports products in the US, consumers receive high-quality, experienced-based CBD products made with all natural and nutrient-rich, plant-based ingredients. In addition to CBD isolate formulations, the company uses a low heat oil-pressed extraction process to produce full-spectrum CBD products that retain a more complete cannabinoid profile.
Torres' longtime agent Evan Morgenstein saw a unique opportunity with CaniBrands, "While Dara has been offered substantial deals from others in the CBD space, now being 50+ she wanted to be more than a paid spokesperson, she wanted to be associated with a brand that can be trusted and she truly believes in. CaniBrands saw her vision and felt the same way. We think this opportunity with the quality team that CaniBrands has assembled has massive consumer appeal and the ability to build a sustainable brand in an over commoditized market."
CaniBrands has a very broad vision for engaging Dara including creating awareness and educating women and men on the benefits of CBD in sports injury recovery and overall wellness, and the creation of her own product line using the company's formulations that will include some revolutionary hydration and anti-inflammation properties with details to be announced in early 2020. CaniBrands' CEO and co-Founder Chris Lord sees this as the perfect marriage, "Dara is an incredible athlete with accomplishments very few can say they have achieved. With our focused strategy to build awareness on the use of CBD in sport through the advocacy of top performing athletes and sports science advisors, what drew us to Dara is her passion to be a global advocate for the unique benefits of the high quality, trusted CBD infused products that we manufacture and market to consumers nationally in the US with plans soon to expand to Canada and Europe". "We couldn't be more thrilled to have her as a partner as we continue to bring innovative, high quality products to our consumers".
ABOUT CANIBRANDS
CaniBrands' premium, nutrient-rich CBD products enhance fitness, wellness and sport lifestyles. The next-generation CBD consumer packaged goods company has developed a full suite of experiences and product choices to support consumers in their day-to-day wellness goals. CaniBrands products are fast-acting and effective to support specific outcomes such as energy, sleep, relaxation, full-body relief, and workout recovery improvement. CaniBrands is on the leading edge of wellness by offering vitamin-packed CBD-infused products, including high quality oral sprays, across the US via wholesale distribution and direct-to-consumer online shopping at http://www.canibrands.com.