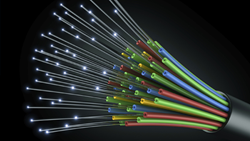 Solveforce Expands Dark Fibre services to Orange County, CA effective immediately
Orange County, California (PRWEB) September 30, 2015
With Solveforce's introduction of Dark Fibre services to Orange County, businesses will now be able to optimize at incredible data speeds over fiber optic cable.
What is Dark Fibre?
The traditional meaning of Dark Fibre (http://darkfibre.biz/) refers to unused or 'dark' network infrastructure that is a mixture of cabling, switches and repeaters. Data is transported over optical fibre networks by passing light through the cables. If there is no data being transported, there is no light – this means that the fibre is 'dark'. Dark Fibre is essentially optical fibre infrastructure that is not in use.
When fibre optic cables are laid down, many companies will, in order to future-proof their networks from exponential data growth, overestimate the amount of infrastructure and cabling required. This overestimation coupled with technical advances in the way in which data is packaged means that many optical fibre networks have extra capacity that is not being used. As a result, Dark Fibre networks have developed to take advantage of this extra capacity.
The term 'Dark Fibre' has now evolved to encompass the practice of leasing 'dark' fibre optic cables from network providers and operators. A client will lease unused strands of 'dark' fibre optic cable to create their own privately-operated optical fibre network rather than just leasing bandwidth. The Dark Fibre (http://darkfibre.us/) network is separate from the main network and is controlled by the client rather than the network provider.
Dark Fibre networks can be set up in a variety of ways, including dark fibre rings, point to point or point-to-multipoint configurations. With Dark Fibre, a client can expect to get high levels of performance, a highly secure network and superfast speeds.
About Solveforce
We are committed to you in every aspect of the customer relationship. If you need to contact us for any reason, please, don't hesitate to call or email us at your earliest convenience. We will do all in our capacity to respond to your Dark Fibre (http://darkfibre.us/) inquiry immediately.
By Phone: (888) 765-8301
By Email: ron (at) solveforce (dot) com
Website: http://solveforce.com