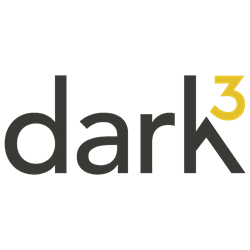 ALEXANDRIA, Va. (PRWEB) September 01, 2020
Dark3, Inc. ("Dark Cubed"), a Software as a Service (SaaS) platform, today announced it has closed its Series A financing led by Option3Ventures, a leading cybersecurity investment specialist firm. Dark Cubed was founded in 2014 by CEO Vince Crisler a former US Air Force White House Presidential Communications Officer, who also served as the CISO at the White House. Dark Cubed will use the capital to fund the company's rapid expansion. Option3Venture Partners Lisa Donnan and Merrick Andlinger will join Dark Cubed's Board of Directors.
Dark Cubed utilizes publicly available and proprietary threat information to provide affordable cybersecurity protection to small and medium business. In addition to providing rapid value to customers, Dark Cubed's patented data analytics approach provides access to anonymized real-time data on customer networks to enable advanced analytics and threat hunting capabilities.
"We believe Dark Cubed's mission of making cybersecurity accessible to companies of all sizes addresses a critical gap in the market today. It is a highly complementary addition to our new O3V Cyber Special Situations portfolio, and also very much aligned with our national security heritage. We look forward to working with Vince and the management team to grow the company in the years ahead" said Manish Thakur, Managing Partner of Option3Ventures.
Mr. Crisler expressed his confidence that this partnership will prove to be successful, commenting "I have been in the cyber industry for over 25 years now. The combination of Option3Ventures' expertise along with Dark Cubed's pioneering approach is bound to move mountains. The cybersecurity market is overwhelmed with solutions targeting large enterprises, yet it is small and midsize businesses (SMB) that take the bulk of cyberattacks. Dark Cubed seeks to address this. We have seen significant growth in our partnerships with Managed Service Providers (MSPs) who are often the front line of defense for SMBs cybersecurity providing rapid streamlined platform security protection," said Crisler.
To learn more about Dark Cubed, visit: https://darkcubed.com
To learn more about Option3Ventures, visit: https://option3ventures.com
About Option3Ventures
Option3Ventures is a leading cybersecurity investment specialist made up of professionals drawn from both the national security community and the investment industry. It focuses on those companies at the very frontiers the of the cybersecurity sector, offering solutions to problems that existing technologies cannot address. Over the past five years, O3V has built a track record of venture investing in a select group of categories leaders and is now raising its first dedicated cyber venture capital fund, Option 3 Cyber Investments. O3V is based in New York and the Washington DC area, and its Board of Advisors range from former Chief Information Officers at such organizations as the Central Intelligence Agency and Department of Defense to the former CIO of Merrill Lynch and former CEO of Lehman Brothers.
About Dark Cubed
Dark Cubed was founded to bring simplicity, automation, and ease of use to cybersecurity, created by Vince Crisler, former CISO of the White House. It is a powerful cyber security software as a service (SaaS) platform that deploys instantly and delivers enterprise-grade threat identification and protection at a fraction of the cost. It allows users to instantly get visibility into the threats targeting networks and quickly acts in protecting clients.