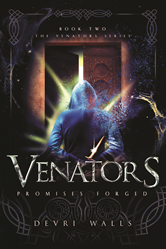 "I love to write fantasy, not only because magic is my language, but because fantasy is the perfect place to house insights where people least expect to find them." – Devri Walls
DALLAS (PRWEB) April 30, 2019
International best-selling author Devri Walls takes readers deeper into the darkly fantastical world of Eon in book two of her Venators series, Venators: Promises Forged (Brown Books Publishing Group), which releases today.
In this sequel, the three Venators, Rune Jenkins, her twin brother Ryker, and their friend Grey, find themselves battling for their lives in Eon — and when their fates rest on Rune's shoulders, she must learn to harness her powers if she ever hopes to save them. Rune's journey to rescue her companions becomes a compelling and enchanting coming-of-age story inspired by friendship, strength, and perseverance that can be appreciated by all fans of strong female leads and thrilling young adult fantasy fiction.
The second book in the series is already garnering praise from the industry, fans, and fellow authors. Foreword Reviews states, "Venators: Promises Forged is a darkly spirited young adult novel that prompts eager anticipation for the next book in the series." Author and video game writer Genese Davis of The Holder's Dominion and Omensight exclaims, "Devri Walls has stunned us again! Her first book set the bar sky high, and the second leaves us clamoring for more! The Venators books are must-reads."
When asked what readers can expect from the sequel, Devri Walls says, "Book two will deliver big time on what the fans have been begging for and that is more Beltran! We also get a twisted look into Queen Feena's Fae garden that has Grey a little 'wrapped up,' while Rune is forced to embrace a side of herself she's not quite ready for."
Featuring more mystery, thrilling adventures, and pulse-pounding battles, this installment is sure to delight fans of the Venators series and beyond, and keep them excited for the next chapter. For more information, please visit http://www.DevriWalls.com.