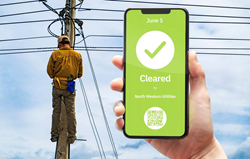 Our partnership with Clear360 will allow Clevest to offer utility organizations the tools to safeguard communities, track worker health & safety, and prove regulatory compliance seamlessly and transparently. - Carol Johnston, VP of Marketing & Product, Clevest
VANCOUVER, British Columbia (PRWEB) September 15, 2020
Darwin Labs and Clevest today announced the launch of the Clear360 platform for Utilities. Clear360 is a cloud-based Enterprise Health Management platform, specifically designed to help large organizations with both mobile and on-premises workforces mitigate the impacts of viral illness. The companies are combining Clear360's workplace health Check-in and management platform with Clevest's award-winning Mobile WorkForce Management (MWFM) solution.
Public Utilities around North America (including those serving regions with power, natural gas, water, and communications) are under increasing pressure to meet their provinces' and states' "back to work" safety advisories and requirements amid Covid-19. Most employ a diverse workforce comprising remote, facilities-based, and field workers. The latter group has a high degree of interaction with members of the community -- so protecting their health is not only critical to the continuity of the organization, but also to the overall safety of the community.
The Clear360 platform has been adapted to integrate with Clevest's workforce management technology to track workers' health status in realtime via screening and voluntary reporting tools. Using this data, Clear360 can rapidly surface outbreaks, prevent sick workers from infecting co-workers and customers, and maintain compliance with emerging and evolving regulations as regional health authorities attempt to contain the spread of Covid-19.
"Public utilities live in a world of strict operational requirements and regulations," said Ashish Anand, Founder and CEO of Darwin Labs "and they need a solution which delivers health screening, simplifies compliance and enables them to nimbly respond to the impacts of illness on their workforce as this virus, and future viruses, affect the population. Clevest, thanks to their profound influence within the utilities industry, can help us to quickly ramp up our solution to make those workplaces safer."
"As providers of essential services—including gas, electricity, and water—our customers must go to work every day, regardless of what's happening in the world," stated Carol Johnston, VP of Marketing and Product, Clevest. "In order to do this, utilities must take proactive measures to ensure the safety of their employees, customers, and communities. Our partnership with Clear360 will allow Clevest to offer utility organizations the tools to safeguard communities, track worker health & safety, and prove regulatory compliance seamlessly and transparently."
The companies' joint solution will be available for deployment with Clevest customers this month, and more broadly for other utilities by the end of the year. Clear360 previously announced the availability of a version of its platform targeted at Education, which is presently in trials.
About Clear360
Clear360 is a SaaS platform that helps organizations defend against the impacts of viral illnesses including Covid-19, and was created by Vancouver digital health foundry Darwin Labs. A leader in Enterprise Health Management, Clear360 is focused on yielding safer, healthier and more productive workplaces by enabling testing, tracing, monitoring, and illness management for workforces and their employers. For more information please visit clear360.com/clevest or email pr@clear360.com.
About Clevest
Clevest provides workforce automation software that connects the mobile workforce to office operations. Built for energy and water utilities, our innovative solutions optimize any field activity or process, improving outage response times, worker productivity and safety, and helping utilities reduce their carbon footprint. With over 240 utility customers worldwide, Clevest solutions have been used to deploy over 35 million smart meters, and service over 100 million energy and water consumers. Clevest is MultiSpeak-compliant, integrates with 250 enterprise systems, and offers configurable solutions that can be deployed on-premise or in the cloud. For more information, please visit https://www.clevest.com/.