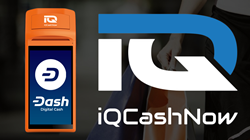 "This partnership not only puts Dash and IQ CashNow closer to their shared mission of driving global adoption of cryptocurrency, it also makes transactions faster and cheaper for merchants across key countries and regions already seeing tremendous crypto growth."
SCOTTSDALE, Ariz. (PRWEB) September 05, 2019
Dash, the top digital currency for payments and e-commerce, announced today that Dash is now accepted at over 1,000 new merchants and more than 250 ATMs through its partnership with IQ CashNow, a full-service provider specializing in cryptocurrency ATMs, point-of-sale (POS) terminals and e-commerce websites.
Across Europe, the U.S. and Ecuador, businesses like coffee shops, bars and restaurants are now accepting Dash through IQ CashNow. One distinct advantage of Dash is that all Dash transactions are instantly confirmed, meaning all Dash payments are instantly settled at point of sale. Credit card transaction fees typically run between 3.5% and 5%, while the IQ CashNow cryptocurrency payment processing fee is around 1%. The average Dash transaction size on IQ CashNow is 10-20 Euros, meaning the average fee is between 10-20 cents compared to the 35-50 cent cost of a traditional credit card transaction.
"Dash was an attractive addition for IQ CashNow because it's capable of settling transactions instantly," said Gerald Wirtl, CEO of IQ CashNow. "Low fees, transaction speed, and security are all core elements to our customers and towards driving broader adoption of cryptocurrency, and we feel Dash is a perfect fit."
Future integrations plans will include promotion materials at POS terminals, creating a touchpoint to educate customers about the opportunity to pay with cryptocurrency. The IQ CashNow POS terminals are full-service devices, offering a way for merchants to not only process crypto payments, and will soon be adding support for traditional credit card payments as well.
"Dash is now available to more people than ever," said Jan Heinrich Meyer, CEO & Founder of Dash Embassy. "This partnership not only puts Dash and IQ CashNow closer to their shared mission of driving global adoption of cryptocurrency, it also makes transactions faster and cheaper for merchants across key countries and regions already seeing tremendous crypto growth."
About Dash:
Dash is digital cash designed to offer financial freedom to everyone. Dash allows millions of individuals across the globe to carry out instantly re-spendable and secure transactions, with near-zero fees. Built to support real-life use cases, Dash is the leading decentralized payment solution: it is accepted at thousands of merchants globally, accessible via hundreds of ATMs and dozens of exchanges worldwide. Dash has pioneered groundbreaking features including:two-tier network with incentivized nodes and decentralized project governance (Masternodes), instantly settled payments (InstantSend), instantly immutable blockchain (ChainLocks), and optional privacy (PrivateSend). The Dash Network's development is supported by Dash Core Group, the largest organization funded by the Dash Treasury, which supports and nurtures the continued worldwide development and integration of Dash. For more information, visit https://www.dash.org/ or follow the organization on Twitter @DashPay.
About IQ CashNow:
iQ CashNow is an Austrian company that specializes in building a powerful blockchain ecosystem. As a full-service provider, the company enables easy, secure and fast processing of transactions in the crypto currency area via ATMs (Europe-wide 250 locations), POS payment solutions, online exchange platforms as well as digital banking and debit card solutions. The company currently has 15 employees and operates subsidiaries in Germany, Spain, Italy, Liechtenstein, Hungary, Greece and Turkey.