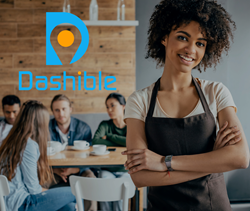 There is a big difference between giving a big one-time discount and finding a new customer.
NEW YORK (PRWEB) November 21, 2019
Dashible, Inc. today announced the launch of Dashible Deals an innovative marketing platform that enables businesses of all sizes to create and efficiently distribute local deals to consumers via the Dashible mobile application.
The Dashible solution provides benefits for both merchants and consumers. Small to medium-sized retailers typically struggle with ways to make customers aware of deals and promotions, not having the resources to develop mobile applications and not being able to afford the hefty revenue share required by some existing daily deal providers. Dashible provides a platform for these businesses to offer deals for their goods and services via a mobile platform in a cost effective and easy to use manner. Businesses can sign up for Dashible at no cost and have a live deal on the platform in less than 10 minutes. Dashible's consumer solution includes mobile apps for iPhone and Android that provide value, choice and convenience. The apps enable consumers to search for deals by swiping left or right on deals or searching for deals around them. Once a customer finds a deal they like it can be redeemed for free without waiting. There are no vouchers to buy.
Marc Sprung the owner of Church Street Boxing Gym is one of the first businesses to offer Dashible Deals. He had this to say about the service "Dashible is easy to use and gives me complete control over my deals so that I can manage my promotions in a way that makes sense for my business. Dashible is definitely what we needed to find new customers which is different than just offering one-time discounts."
"Dashible's goal is to enable all businesses to participate in local marketing via daily deals in a way that gives them the control to offer deals on a recurring basis in a way that fits their specific budgets and marketing strategies while at the same time offering consumers greater choice and some fun" said Marvin Johnson Dashible's Co-Founder & CEO.
Dashible is currently available in New York City.
About Dashible, Inc.
Dashible, Inc. New York City based company focused on developing innovative ways to help businesses use technology to effectively market to consumers. Learn more at http://www.dashible.com.