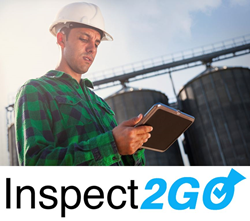 The app/cloud combo is ideal for remote data collection
Orange County, California (PRWEB) November 17, 2015
Inspect2go releases new software designed for outdoor data collection. The system is capable of operating in remote locations without wireless connectivity. Field data is collected via a native mobile app for iPad, iPhone, Android tablets and Windows mobile devices. Take photos, gather evidence, document inspections, reference regulatory codes and view historical data while in the field. When connectivity is available, the app syncs with a cloud database. Ad hoc reporting and data analytics are also cloud based. Options include permitting, licensing, scheduling, geolocation, data security and notifications. A custom dashboard is tailored to each client's needs. The app/cloud combination combines the remote capability of a native mobile app with the database and reporting power of the cloud (see http://www.inspect2go.com/data-collection).
Functions

Field data collection
Ad Hoc Reporting
Data management
Database hosting
Data analytics
Inspection documentation
Native mobile app – Functions in remote locations, offline, without connectivity
Mobile devices - Apple (iPhone, iPad), Windows or Android tablets
Reference regulatory codes
Notifications
Scheduling
Document management
Geolocation
Evidence gathering
Custom software integration
Security
Electronic Signatures
Photos
The system is designed with many potential applications in mind. Possibilities include construction, civil engineering (structural assessment), property (multi-unit housing), environmental compliance monitoring (water, pollutant, air and hazardous materials), site inspection and other data collection processes conducted in the field.
About Inspect2Go
Inspect2Go (http://www.inspect2go.com) offers state-of-the-art inspection management software that improves quality and reduces costs. The software combines mobile, cloud and database technology. Inspections are conducted on a native mobile app that's easy to use and functions anywhere, offline, without the need for data connectivity. iPad, Android tablet and Windows mobile applications are available. The app syncs with a Microsoft SQL database for data storage. Software functions include inspection, scheduling, permitting, work orders, accounting, data analytics, ad-hoc reporting and management. Solutions are customized to fit the specific needs of each client.