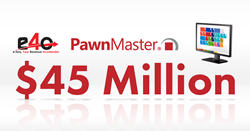 "We're proud to continue contributing to the future success of our customers, and we look forward to watching their sales rise even more as we help them prepare for the holiday season." - Len Summa
CLEARWATER, Fla. (PRWEB) September 22, 2020
Data Age Business Systems, developer of the industry's leading pawn management software PawnMaster, is excited to announce yet another e-commerce milestone. Through the integrated e-commerce tool e4o, PawnMaster users have achieved over 45 million dollars in revenue from items sold online. PawnMaster's e4o product allows users to list inventory items out for sale on multiple online channels, while still offering those items for sale in store.
With e4o, PawnMaster Customers are able to expand their store inventory to more customers through more avenues than simply their in-store shopping experiences, which has proven to be incredibly impactful in today's changing marketplace. With COVID-19 still a concern for in-store retail shopping, online shopping has quickly become the best avenue for consumers. E4o has made this experience seamless not only for customers to shop at their favorite pawn and retail shops, but also for the PawnMaster customers as well.
The convenience of e4o for PawnMaster customers starts with its integration into the PawnMaster software itself, which eliminates the complication of double sales. If an item is sold in-store, PawnMaster will pull it from the shop's inventory and remove all other listings. If an item sells online, the same event occurs, and that item will be pulled from any other channel as well as in-store inventory. The integration also provides a reporting platform with PawnMaster, giving business owners the information they need to operate a successful shop. Reporting includes PayPal fees, shipping charges, eBay fees, etc.
Currently e4o integrates with many of the leading global e-commerce sites, such as Amazon, eBay, Facebook, and GunBroker.com. The marketing power of those global brands combined with PawnMaster client success has led to unprecedented growth of e4o. It now takes e4o clients less than a month to collectively earn a million dollars in sales.
The major differentiator between e4o and other eCommerce platforms currently on the market is this: no success fees. The $45 Million in online e4o revenue belongs completely to the shop owners. "We look at it this way; you're already paying to access the marketplaces where you want your items to be, why should you THEN have to pay again when an item sells? That's your revenue, that's what you earned," CEO of Data Age, Len Summa, states.
Although $45 million in revenue is a huge success for PawnMaster's e4o customers, PawnMaster does not intend to stop this growth any time soon. "It's critical in these changing times that we continue to help our customers bring in revenue to their shops," Len Summa states, "we're proud to continue contributing to the future success of our customers, and we look forward to watching their sales rise even more as we help them prepare for the holiday season."