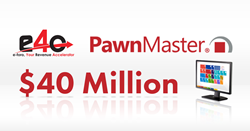 "We take pride in helping our customers increase their revenues and we enjoy the day to day collaboration with them. Taking pride in what we do separates our products and services from any other vendor/product on the market."
CLEARWATER, Fla. (PRWEB) April 09, 2020
Data Age Business Systems, developer of the industry's leading pawn management software PawnMaster, is excited to announce yet another e-commerce milestone. Through the integrated e-commerce tool e4o, PawnMaster users have achieved over 40 million dollars in revenue from items sold online. PawnMaster's e4o product allows users to list inventory items out for sale on multiple online channels, while still offering those items for sale in store.
The direct integration of e4o with PawnMaster eliminates the complication of double sales. If an item is sold in-store, PawnMaster will pull it from the shop's inventory and remove all other listings. If an item sells online, the same event occurs, and that item will be pulled from any other channel as well as in-store inventory. The integration also provides a reporting platform with PawnMaster, giving business owners the information they need to operate a successful shop. Reporting includes PayPal fees, shipping charges, eBay fees, etc.
Unlike other eCommerce integrations currently available in this market, e4o has a major differentiator. "We don't charge success fees with e4o," says Len Summa, CEO of Data Age Business Systems. "We look at it this way; you're already paying to access the marketplaces where you want your items to be, why should you THEN have to pay again when an item sells? That's your revenue, that's what you earned. People are shocked when they find out we don't revenue share on e4o. It's so common in online sales, but our goal is to offer services unlike everything else out there. Ease-of-use, speed of transaction, and keeping money in your pocket. It's what we're known for."
Currently e4o integrates with many of the leading global e-commerce sites, such as Amazon, eBay, Facebook, and GunBroker.com, with plans to continue to develop as e4o expands into new integrations with leading online marketplaces like Shopify, Offerup, Etsy, Reverb, and more. PawnMaster's e4o leverages the multi-billion dollar marketing efforts of these global brands to ensure PawnMaster customers' products get maximum visibility to all of the e-commerce world.
"We take pride in helping our customers increase their revenues and we enjoy the day to day collaboration with them. Taking pride in what we do separates our products and services from any other vendor/product on the market" states Len Summa. Over the past 32 years Data Age has been the pre-eminent point of sales software provider to the collateral loan industry, and there are no plans of stopping this growth anytime soon. "Our customers are very pleased to have a tool to help them without having to give away profit margins. We expect e4o revenues will continue to soar and reach new milestones at even faster rates in the future" states Len Summa.