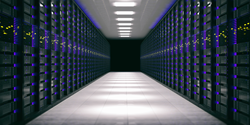 "Mission-critical data centers can't afford the slightest mishap, or they could face very costly repercussions. Power outages and security breaches are entirely avoidable; firms just need to do their due diligence and choose their cloud-based and enterprise services partners with care."
TAMPA BAY, Fla. (PRWEB) November 19, 2018
The amount of data stored in global data centers is projected to nearly quintuple between 2016 and 2021, from 286 exabytes (EB) to 1.3 zettabytes (ZB),(1) fueling rising demand for electricity to power and cool those facilities. In fact, a single large data center can consume as much energy as a small U.S. city; and data centers worldwide use 416 terawatt hours of electricity each year, representing 2% of global energy.(2) Faced with the growing costs, reliability issues and security concerns of data-center power sources, many companies are seeking new solutions for efficient, secure and renewable energy production. Silent Partner Group of Companies (SPGC) and its associates—visionary innovators in hyper-efficiency, off-the-grid data centers—address the challenges of today's data/energy dynamic and see great opportunities for forward-thinking industry leaders.
Traditional data centers, those managed and maintained in-house, continue to give way to cloud-based computing. By 2021, cloud traffic is projected to account for 95% of all data center traffic, and cloud data centers will process 94% of workloads and compute instances.(2) A number of cloud-services providers have been battling for market dominance in this lucrative sector. Amazon Web Services (AWS) emerged as a frontrunner when it landed a $600 million contract with the CIA in 2013, and AWS is considered to be a top contender for the Pentagon's Joint Enterprise Defense Infrastructure (JEDI) cloud—a single-provider contract estimated to be worth $10 billion.(3, 4)
However, some have questioned whether AWS can deliver the reliability and security required for a project of JEDI's scope. A coalition known as the Free & Fair Markets Initiative requested an inquiry to determine if Amazon's cloud systems were compromised by malicious chips from China, and the chairman of the Senate Armed Services Committee has reportedly agreed to investigate potential cyber vulnerabilities in the U.S. supply chain.(5) AWS has also been called out for power outages affecting its largest data center, including a March 2018 event that knocked hundreds of internet services offline and a May 2018 outage that caused hardware failures.(6) And just last month, WikiLeaks published a list of AWS data centers, including locations that were intended to be secret.(3)
"Power sources have the potential to make or break a data center, so their importance can't be overstated," asserted Dale Hobbie, CEO of Silent Partner Group of Companies. "When a client is investing millions or billions of dollars into cloud services, they expect a zero-downtime guarantee, sufficient bandwidth to allow for future growth and spikes in demand, and assurances the system is secure and impenetrable. Yet as recent headlines have shown, there are still gaps to overcome before we see data centers reach their full potential."
Leveraging his previous experience in energy, mission-critical, commercial, military and other sectors, Hobbie set out to transform the industry's data-center and energy-source challenges into business opportunities and competitive advantages. SPGC's solution—hyper-efficiency, off-the-grid (HE-OTG) data centers—will soon prove the efficacy of this vision with the launch of six hyperscale data centers in Scandinavia: three each in Norway and Finland. As reported in Tivi and Data Centre Dynamics, each facility will have an initial power capacity of 250 megawatts (MW)—which is more than double the size of Google's 100MW data center in Hamina, Finland(7)—and could soon become "one of the largest data center portfolios in the world."(8)
The new data centers were designed to overcome current industry shortcomings, and Hobbie believes they will become the industry bar. Following are a few of the advances that SPGC identifies as must-haves for cloud clients:

Hyperscale Bandwidth – At a minimum of 250MW per data center, SPGC's high-capacity projects offer plenty of room for scalability and can handle fluctuations in demand.
Modular Data Center System – SPGC's associated modular technology from PVD Modular, LLC fits more processing power in less space. In fact, Berkeley Lab testing determined it to be the most energy-efficient system on the market today.
Collocated Power Plants With Multi-Tier Redundancy – Turnkey, hyper-efficient data center platforms have triple-redundant power systems collocated onsite to ensure the facility runs 24/7/365 without interruption.
Carbon Capture, Emission Controls and Renewable Energy Production – SPGC's associated sustainable, green technology is designed to be carbon-neutral or even carbon-negative, reclaiming and reusing waste as a fuel source.
Military-Grade Security – SPGC's relationships with top security consulting firms and ability to provide full-scale, end-to-end satellite communications allow the company to exceed government security and reliability standards.
"Mission-critical data centers can't afford the slightest mishap, or they could face very costly repercussions," warned Hobbie. "Power outages and security breaches are entirely avoidable; firms just need to do their due diligence and choose their cloud-based and enterprise services partners with care. At SPGC, we're using our team's expertise to bring the most powerful, multi-dimensional and highly efficient cloud computing centers to clients worldwide, and we're proud to lead the way in data/energy innovations."
Silent Partner Group of Companies™ supports every phase of the collocated, HE-OTG data center lifecycle, from project planning and development, to financing and procurement, to construction, operations and maintenance. For more details on SPGC's services, solutions and sectors, visit https://www.spgc.us.
About Silent Partner Group of Companies™
Silent Partner Group of Companies (SPGC) and its associates are redefining the world's data/energy dynamic, setting the industry bar as the single, global source for Hyper-Efficiency, Off-the-Grid (HE-OTG) Data Centers with triple-redundant collocated power plants. Headquartered in Tampa Bay, Florida, with international offices in Sofia, Bulgaria and Fredrikstad, Norway SPGC and its associates aim to provide mission-critical data centers with an unprecedented level of reliability, security and sustainability. Founder Dale Hobbie has 35 years of expertise in budget-minded risk management and process-minded execution; he and his team provide fully turnkey engineering, design, procurement and construction. Every SPGC data center features fiber redundancy and renewable energy production with carbon capture and emission controls, delivering world-class computing power with a carbon-neutral/carbon-negative footprint and ongoing cost savings. Other distinctions include high-efficiency heating and cooling systems, innovative modular racking systems, state-of-the-art software, and the industry's most progressive security and control platforms. To learn how SPGC is revolutionizing worldwide data centers and power production, visit https://www.spgc.us.
1. Cisco. "Global Cloud Index Projects Cloud Traffic to Represent 95 Percent of Total Data Center Traffic by 2021"; press release issued February 5, 2018.
2. Witham, Jim. "Energy and Data: The Duo Defining Our Global Future"; Forbes; October 2, 2018.
3. Moss, Sebastian. "WikiLeaks Publishes List of AWS Data Center Locations, Colo Providers"; Data Centre Dynamics; October 12, 2018.
4. Martineau, Paris. "How the Pentagon's Move to the Cloud Landed in the Mud"; Wired; October 10, 2018.
5. Johnson, Natalie. "Senate Panel to Probe Cyber Vulnerabilities to U.S. Supply Chain Amid Reports of Chinese Hacks"; The Washington Free Beacon; October 18, 2018.
6. Cappella, Nicky. "AWS 'Power Event' Disrupts Largest U.S. Availability Zone"; The Stack; June 4, 2018.
7. Karkimo, Ari. "Suomeen Kolme Jättimäistä Datakeskusta? – Kymmenen Ertaa Telian Pitäjänmäen Laitoksen Kokoisia"; Tivi; October 15, 2018.
8. Smolaks, Max. "Silent Partner Consortium Plans Six Hyperscale Data Centers in the Nordics"; Data Centre Dynamics; October 11, 2018.