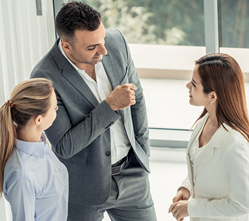 Current regulations place a heavy responsibility on the organizations that hold the data. Conducting a regular compliance risk assessment, therefore, is essential,
HOBOKEN, N.J. (PRWEB) May 19, 2021
Messaging Architects, an eMazzanti Technologies Company and data compliance expert, shares how to conduct a compliance risk assessment in a new article. The informative article first cites the changes in the privacy landscape since the GDPR went into effect in 2018.
The author then reviews how to assess the data compliance landscape in your industry and location. After discussing the need to analyze data flow, he outlines how to map regulatory requirements to existing data controls and procedures. He concludes by instructing administrators to develop and implement a plan to improve a company's compliance posture.
"Current regulations place a heavy responsibility on the organizations that hold the data," stated Greg Smith, Vice President of Services Delivery at Messaging Architects. "Conducting a regular compliance risk assessment, therefore, is essential."
Below are a few excerpts from the article, "How to Conduct a Compliance Risk Assessment."
Assess the Data Compliance Landscape
"To determine the current compliance landscape, the organization must first answer the question of where they do business. This applies to both geographical location and industry and extends beyond the location of the home office. For instance, a business in Oregon may market through their website to customers across the country."
Understand Data Flow
"With an understanding of the compliance landscape, you can then assess data flow. This involves knowing what data the company holds, where it lives, and what policies and procedures affect the data. For instance, does the organization have retention policies in place? What security measures exist to protect sensitive data in transit and in storage?"
Analyze and Evaluate Risks
"Now that you know what regulations apply and have a picture of the data flow and policies within the organization, you can identify and prioritize risks. Your goal in this step is to accurately identify whether the organization can meet regulatory requirements. Even if the answer is 'no,' it gives you a place to start."
Document and Implement Findings
"Armed with identified risks, administrators develop and implement a plan to improve the company's compliance posture. Focus on high-risk areas. Additionally, keep in mind the balance between too rigid compliance that halts productivity and overly lax compliance that results in stiff penalties."
Compliance Risk Assessment Experts
The compliance risk assessment provides several key benefits in addition to avoiding penalties. For instance, it shows customers, investors and the public that the organization values and protects privacy. It also helps to uncover potential issues before they become problems, saving time and money. And it guides strategic decision making.
Compliance monitoring and privacy risk assessments can prove complicated. But the data consultants at Messaging Architects help organizations to implement proactive data governance. Combining data management best practices with compliance monitoring and multilevel data security will protect both the company and its customers.
Have you read?
Solve the Surplus Data Dilemma with Data Governance
Microsoft 365 Records Management Delivers Flexible Solution for Managing High-Value Content
About Messaging Architects
Messaging Architects specializes in effectively managing and securing an organization's most precious asset, its information. With over 20 years of information management and technology consulting experience, the Messaging Architects team has provided corporations, educational intuitions, health care facilities and nonprofits with methodologies, procedures, and technology to keep their data organized, compliant and secure.
About eMazzanti Technologies
eMazzanti's team of trained, certified IT experts rapidly deliver increased revenue growth, data security and productivity for clients ranging from law firms to high-end global retailers, expertly providing advanced retail and payment technology, digital marketing services, cloud and mobile solutions, multi-site implementations, 24×7 outsourced network management, remote monitoring and support.
eMazzanti has made the Inc. 5000 list 9X, is a 4X Microsoft Partner of the Year, the #1 ranked NYC area MSP, NJ Business of the Year and 5X WatchGuard Partner of the Year! Contact: 1-866-362-9926, info@emazzanti.net or http://www.emazzanti.net Twitter: @emazzanti Facebook: Facebook.com/emazzantitechnologies.