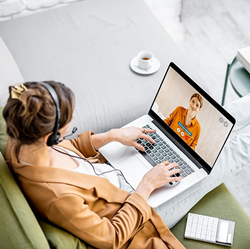 HOBOKEN, N.J. (PRWEB) May 27, 2021
Messaging Architects, an eMazzanti Technologies Company and privacy compliance expert, shares privacy compliance and remote work challenges in a new article. The informative article first reviews remote work inherent privacy and security risks.
The author then discusses organization privacy best practices, including conducting a compliance risk assessment. He concludes by listing employee best practices to promote compliance, including securing all devices used for work, encryption, and knowing how to recognize phishing scams.
"Employees work on personal devices more than ever before, devices that may lack up-to-date security measures and secure Wi-Fi," stated Greg Smith, Vice President of Services Delivery at Messaging Architects. "Employees and organizations alike must take responsibility for privacy compliance and data security."
Below are a few excerpts from the article, "Privacy Compliance and Remote Work."
Common Privacy Compliance and Remote Work Challenges
"Remote work brings inherent privacy and security risks. Controlling access to sensitive data tops the list. For instance, healthcare professionals working remotely must comply with HIPAA regulations regarding safeguarding personal health information (PHI). Yet they often work surrounded by family members who might accidentally see or hear privileged information."
Organization Best Practices
"Ensure that employees have both the technology and the training that they need to comply with security and privacy protocols. This may involve one-on-one assistance to implement security measures. And it will definitely include regular and multi-faceted employee education."
Employee Best Practices to Promote Compliance

"Follow security policies for remote access – Never use public Wi-Fi for work. Ideally, use a secure VPN connection."
"Safe video calling – When conducting or attending a video meeting, understand and use the privacy settings available. For instance, use passcodes to restrict meetings to invited attendees."
More Employee Best Practices >>
Partner with Compliance Experts
Remote work complicates an already complex regulatory landscape. The compliance and security experts at Messaging Architects help business leaders secure business assets and achieve compliance. From initial risk assessment to implementing multi-faceted data security and conducting ongoing data compliance monitoring, they provide enterprise-grade service.
Have you read?
How to Conduct a Compliance Risk Assessment
Solve the Surplus Data Dilemma with Data Governance
About Messaging Architects
Messaging Architects specializes in effectively managing and securing an organization's most precious asset, its information. With over 20 years of information management and technology consulting experience, the Messaging Architects team has provided corporations, educational intuitions, health care facilities and nonprofits with methodologies, procedures, and technology to keep their data organized, compliant and secure.
About eMazzanti Technologies
eMazzanti's team of trained, certified IT experts rapidly deliver increased revenue growth, data security and productivity for clients ranging from law firms to high-end global retailers, expertly providing advanced retail and payment technology, digital marketing services, cloud and mobile solutions, multi-site implementations, 24×7 outsourced network management, remote monitoring and support.
eMazzanti has made the Inc. 5000 list 9X, is a 4X Microsoft Partner of the Year, the #1 ranked NYC area MSP, NJ Business of the Year and 5X WatchGuard Partner of the Year! Contact: 1-866-362-9926, info@emazzanti.net or http://www.emazzanti.net Twitter: @emazzanti Facebook: Facebook.com/emazzantitechnologies.