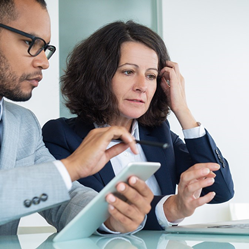 If decision makers lack sufficient data literacy, they can easily misinterpret or mis-apply the data. This too often results in costly mistakes and loss of revenue.
HOBOKEN, N.J. (PRWEB) December 02, 2020
Messaging Architects, an eMazzanti Technologies Company and information governance consultant, discusses the importance of data literacy, how to assess the organization, and how to build a data literacy program in a new article on the Messaging Architects website.
The informative article first briefly reviews how the ability to understand and evaluate data drives business outcomes. The author then cites important data literacy benefits followed by skills to look for in assessing the literacy of employees. He concludes by listing key elements of a data literacy program.
"If decision makers lack sufficient data literacy, they can easily misinterpret or mis-apply the data," stated Greg Smith, Vice President of Services Delivery at Messaging Architects. "This too often results in costly mistakes and loss of revenue."
Below are a few excerpts from the article, "Data Literacy Drives Corporate Strategy and Marketing Success."
"Data literacy includes the ability to properly understand and evaluate data, then use and communicate that information effectively to drive business outcomes. This implies understanding data sources and context. It also involves the ability to read charts, draw appropriate conclusions and recognize red flags that indicate problems with the data."
Understand the Importance of Data Literacy
"Data literate employees know what data they need and how to collect it. They can quickly identify gaps or problems with the data. And they understand how to build a logical and compelling business case using the numbers appropriately."
Assess Organizational Data Literacy
"Many businesses have already hired data scientists to handle the technical side of data, from SQL to parallel processing. However, they report a widespread lack in employees who have the ability to think and communicate critically about data. In fact, recent studies show that well below half of decision makers feel confident understanding, analyzing and communicating data."
"For employees to work with data, they need access to that data. But organizations also need to balance availability with responsibility. Effective information governance ensures the data accessibility and quality. At the same time, it promotes data security and compliance with privacy regulations."
Information Governance Solutions
Messaging Architects offers the solutions business leaders need to implement information governance in the organization. This includes data and records management, compliance monitoring, comprehensive cybersecurity, information access controls and eDiscovery management. The data experts at Messaging Architects help them put data to work effectively and efficiently.
Have you read?
Democratization of Data Drives Modern Business Opportunity and Success
Balancing the Potential and Challenges of the Chief Data Officer
About Messaging Architects
Messaging Architects specializes in effectively managing and securing an organization's most precious asset, its information. With over 20 years of information management and technology consulting experience, the Messaging Architects team has provided corporations, educational intuitions, health care facilities and nonprofits with methodologies, procedures and technology to keep their data organized, compliant and secure.
About eMazzanti Technologies
eMazzanti's team of trained, certified IT experts rapidly deliver increased revenue growth, data security and productivity for clients ranging from law firms to high-end global retailers, expertly providing advanced retail and payment technology, digital marketing services, cloud and mobile solutions, multi-site implementations, 24×7 outsourced network management, remote monitoring and support.