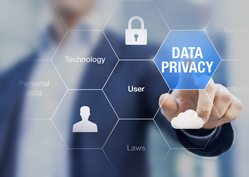 The laws that protect consumers' data privacy are scattershot, especially at the federal level, although states like California have enacted their own laws.
CANOGA PARK, Calif. (PRWEB) December 15, 2020
Can your customers trust their personal data when it's captured online? Perceptions are dangerously skewed right now, from a widespread mistrust of media to underreported cybersecurity breaches of companies that rely on customer information. How much are B2Bs willing to lose if their customers' data is compromised? More importantly, how can consumers and businesses coexist in sharing personal data? Sky Cassidy, CEO of MountainTop Data, offers suggestions as to how to deal with these and more pressing matters.
There's a disconnect between willingly surrendering privacy data and the consequences of a data breach. Even as businesses struggle to survive the COVID-19 landscape, their customers believe their personal data is less secure than ever.(1) There's also the cost of doing business: a single data breach has a global average toll of more than $3 million, according to IBM. (2) Corollary effects include lost productivity as well as indeterminate costs incurred by poor data quality, which aren't easily quantifiable.
Asked what one of the biggest market challenges is these days, Cassidy says, "Privatization." (3) Just as companies use regulations and fear to drive customers to their paid proprietary platforms, anxiety among consumers about their increased exposure can corrupt platforms' functionality and degrade the quality of users' experiences. Not enough companies have the strategy and IT resources to play fair with private data. Meanwhile, too many exist solely to collect information on online behaviors, and demographics. "Basically, you've invited a data vampire in," said Cassidy. (4)
This challenge hits hard in the B2B market, marketing, and cybersecurity, among other disciplines. But it's important to define data privacy in the context of users' everyday habits.
Data Privacy describes practices companies use to ensure data shared by their customers is only used for its stated purpose. Compounding the issue, personal data is especially vulnerable as the COVID-19 virus has disrupted business, making protection a serious consumer protection issue. This remains an age when social media inhales a person's demographics and spits out whatever saleable item its algorithm has matched to that customer.
The laws that protect consumers' data privacy are scattershot, especially at the federal level, although states like California have enacted their own laws. Compliance there is legislated by the California Consumer Privacy Act (CCPA). While the effort is admirable, the disparity of protections proves unwieldy for many companies.
A major hurdle is the chasm between consumer expectations and a business's ability to protect them. Consumers, encouraged by data privacy advocates, often demand their privacy data be deleted, which is their right. It sounds sensible, but the Internet ecosphere that collects and takes advantage of that information is tenacious. Consumers who exercise their privacy rights but continue to frequent the web simply introduce themselves over again, defeating the purpose.
While vulnerabilities are significant, ranging from personal data sharing to inadequate disposal of data, there's a counterpoint argument. Most Americans were fine having their names in phone books. Now that information is ported to smartphones along with their appearance. How is storing and utilizing that information in a database any different? Without that fundamental connection between user and provider, experiential website encounters lose context and influence.
So far, there's no single "silver bullet" solution to protecting consumers' data privacy. Most businesses understand their risks, including a lack of "clean data," and unclear understandings of constantly shifting privacy laws. "Medium to large companies, customers, and services—like MountainTop Data—that help protect them need to work together. Not only can we change our collective perceptions about personal data, but also learn to seamlessly unite a person's data with their needs. Data, used properly, is no longer a nice-to-have, it is a must-have to compete in any industry," says Cassidy. (5)
The key is connecting the dots and more importantly, using common sense. We know Americans' private information is vulnerable and the laws intended to protect that information are flawed. Consequently, a quality web experience is not only a matter of gauging the user experience, but also delivering a measure of trust.
About MountainTop Data
MountainTop Data, headquartered in Los Angeles, CA, has been providing data services for B2B marketing for almost two decades. With an unrelenting commitment to quality, they were the first company to guarantee the accuracy of their licensed data and business emails.  They provide marketing lists, data cleaning, data appending and data maintenance services. Their data services have been used by some of the world's biggest brands across a multitude of various industries from multi-national telecommunication companies to office technology, to PR firms and more. For more information visit: https://www.mountaintopdata.com
1. Pew Research Center. "Americans and Privacy: Concerned, Confused and Feeling Lack of Control Over Their Personal Information" pewresearch.org/internet/2019/11/15/americans-and-privacy-concerned-confused-and-feeling-lack-of-control-over-their-personal-information/
2. IBM. "Cost of a Data Breach Report." 2020 ibm.com/security/digital-assets/cost-data-breach-report Accessed 20 December 2020.
3. Reddit. reddit.com/r/marketing/comments/fhhm3i/hi_im_sky_cassidy_im_a_b2b_marketer_ceo_of_a_b2b/ Accessed December 2020
4. Cision PR Web. "MountainTop Data's Sky Cassidy Warns of "Data Vampires" in Light of 1.2-B Record Data Breach "prweb.com/releases/mountaintop_data_s_sky_cassidy_warns_of_data_vampires_in_light_of_1_2_b_record_data_breach/prweb16758215.htm Accessed December 2020
5. JoTo PR. "How Social Media Platforms Could Be Hurting Business." 2020 jotopr.com/how-social-media-platforms-could-be-hurting-businesses/ Accessed December 2020
6. Real Trends. "How Social Media Platform Data Could Be Hurting Businesses" realtrends.com/blog/how-social-media-platform-data-could-be-hurting-businesses Accessed December 2020