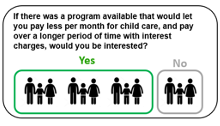 Care quality is the number one factor in selecting a center or provider, while cost is the clear number two. 77% of respondents said cost of care and financial planning was factored into decision making before selection of a provider.
POWAY, Calif. (PRWEB) October 06, 2020
Multiple studies conducted over the past 20 years have clearly shown the cost of child care to be one of the major expenses in a family budget. The coronavirus pandemic has shone an even brighter light on the issue while also illuminating a number of sentiments related to the choices families are making in an era of change and financial uncertainty.
The survey of nearly 500 parents of children under six living in California or Colorado was conducted by Jump Start Finance, creators of the recently launched KidVantage Loan program, which provides financing specifically and exclusively for child care. 485 parents completed a 65-question online survey, in addition to fourteen 1:1 interviews.
The survey, conducted in July 2020, clearly revealed the stark impact of COVID-19 on how families chose to - or were forced to - use child care. Nearly 65% of families responded that their use of child care was directly affected by the pandemic, with 1 out of 4 families reporting their care center either closed or they removed their child completely from care because of the pandemic.
Behaviors around choosing type of venue of child care have also changed. More than 20% of families have moved their child from a care center-based environment into a home-based care facility. In 1:1 interviews conducted as part of the research, parents said they were more comfortable with their children in smaller groups and home care settings because exposure to fewer children provides a sense of increased safety amidst the pandemic.
Of those that indicated they would remain in a care center based setting in the future, 24% indicated they wouldn't return until they were comfortable with the cleaning and social distancing protocol used at their center, while another 19% said they would not return to care without availability of a COVID-19 vaccine to all children and staff at the center.
Despite the challenges that have or will lead to families taking a child out of a formal care environment, 87% of respondents agree that children who are enrolled at a center are better prepared for school/life.
The list of key factors that determine family choices when selecting a care provider were surprisingly clear from the data. Care quality is the number one factor in selecting a center or provider, while cost is the clear number two. 77% of respondents said cost of care and financial planning was factored into decision making before selection of a provider.
The data shows that 1 out of 2 parents are surprised by the cost of care, and 20% expect to or have cut expenses in other areas of the household budget to pay for child care. While paying for care is a necessity for families, discussing the cost and payment options with the care providers appears to be extremely uncommon. 88% of respondents said payment options were never brought up by the center in the enrollment process.
It is clear from the research that cost of care matters. It did prior to the pandemic, and the current circumstances will likely exacerbate what was in many cases already a stressful financial situation.
Based on the research, families facing budget shortfalls from job loss, unexpected household or family expense or other financial challenges impacting the ability to pay for care consider options including getting funds from a family member, taking the child/children out of care, using credit available on a card, or moving to a lower cost child care option, or having one parent leave the workforce to provide care.
One in three families were taking on credit card debt to pay for child care prior to the pandemic, a number that has likely increased. Credit cards often charge high interest rates and fees, while paying monthly with a credit card reduces the amount of credit available for other expenses and emergencies.
Many families are either forced or choose to have one parent leave the workforce and provide child care at home, which can lead to a negative impact on both short and long-term family income. Major studies show that only 50% of parents who leave the workforce return to work full-time, and those that do earn $700,000 less on average over their lives. In addition, the starting wage for those that do return is typically 10-25% below the salary/income level the left.
Leaving the workforce is particularly challenging for women, and even more so during the pandemic. Current research has shown that women have been disproportionally impacted from both job and increased home responsibility perspectives, and historically reduced income and promotional opportunities most often affect mothers, contributing to long-term gender pay inequality.
Financing child care in a similar manner to a home or car purchase or college education reduces the monthly burden of a full payment. It allows families to explore more options and make the right decision by reducing the influence of the care expense on their monthly budget. Survey respondents said that in a crisis situation, financing can have a significant impact on their decision-making process and consideration set of child care options.
80% of respondents to the Jump Start survey said they would be interested in a loan to pay for child care that is similar to a college student loan, while three out of four stated they would be interested in a program which would let them pay less per month for child care and pay over time with interest. 63% believe the KidVantage Loan program is relevant to their wants and needs related to the care of their children.
"We didn't create the KidVantage Loan as a response to needs created by the COVID-19 pandemic," said Jump Start Co-Founder and Chief Analytics Officer John Chalekian "With that said, the fundamentals of the program – a loan exclusively for child care – are absolutely a tool in dealing with the unexpected and crisis in a manner that maintains the quality and consistency of care for your children."
As one of the participants in the 1:1 interview portion of the survey stated: "This has to do with my kids' development, so I would definitely use this program. It would be a sort of supplement."
Survey Type: Quantitative Survey* and Customer Discovery Interviews
Respondent criteria

Location – California and Colorado
Adults - expecting children or have at least one child age 0-5
Household income range $50K to $200K
Respondent Sourcing –Respondents were sourced through a large domestic pay to play market research firm.
Respondents that didn't fit criteria or who were answering questions inconsistently were excluded from the sample. A total of 485 valid responses were collected in early July 2020.
Participation- Participants were asked to complete approximately 65 survey questions online that included demographic information, behaviors and choices included in planning for child care, the impact of COVID has had on families and use of child care, financial/budget impact of child care expenses, attitudes towards financing child care, awareness and acceptance of the KidVantage program.
FULL SURVEY DATA AVAILABLE ON REQUEST
About Jump Start Finance
Jump Start Finance and the KidVantage loan program address the critical issue of child care and early childhood education finances for families. Using a tried and true model that has been used for major life purchases such as a home, car and college education for decades, the Jump Start team created a loan program with low monthly payments for families that eliminates many long-term issues other payment options present. Faced with steep monthly payments, many leave the workforce to provide care at home, pay for care with a credit card, or settle for a lower quality / less expensive care provider. By reducing payments to as little as 40% of monthly child care costs, KidVantage loans deliver more options, flexibility and choice. Based in Poway, California, Jump Start was founded by a team with over 60 years of experience in financial services, credit and loans. The program is currently available in California and Colorado, with expansion to additional states anticipated in late 2020/early 2021. Learn more at http://www.jumpstart-finance.com.