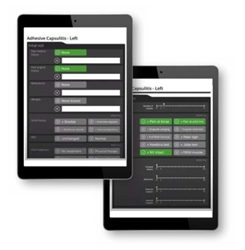 KING OF PRUSSIA, Pa. (PRWEB) February 15, 2021
Healthcare's technologically underserviced outpatient and post-cute care industries are now going to be offered a comprehensive solution designed to streamline costs and improve patient care as DataBank IMX, a leader in digital transformation and healthcare data management, partners with physician-owned iTreatMD.
The Clinical Workflow & Revenue Enhancement software solution coupled with DataBank's extensive healthcare expertise brings new advancements from our nation's largest healthcare systems into a technologically underserviced segment of the healthcare market. With recent shifts from traditional acute care to outpatient sub-industries, these facilities are now able to expand their automation initiatives with hospital-grade technology in the outpatient setting.
"We wanted to expand our solutions portfolio to offer a product focused on helping this section of the market which has been previously overlooked for decades," said Matt Charlson, President and CEO at DataBank. "For over 40 years, DataBank has put together top partnerships in the industry. We are very excited about this point-solution because insightful data leads to improved patient outcomes."
This enables physicians to treat their patients with a tool that not only provides guidance to the clinician through AI-based prompts, but also captures physicians' notes and clinical information for each specific patient to accurately document the encounter. The captured data is fully structured and reports powered by machine learning can also easily be drafted enabling physicians to make smarter clinical decisions.
"We are honored to partner with DataBank," said Nibha Aggarwal, Co-Founder and CEO of iTreatMD. "DataBank is widely known and very well respected in the acute care space. We look forward to jointly offering our point-of-care technology to the outpatient and post-acute industries where it is needed the most.
The Clinical Workflow & Revenue Enhancement solution has already been deployed to hundreds of facilities and practices across the US. The streamlined workflows enable these facilities to not only provide a better level of patient care, but also to increase revenue through better clinical documentation.
About DataBank
DataBank, a Kyocera Group Company, is North America's leading end-to-end business process solution provider. Our Healthcare Division specializes in establishing digital transformation initiatives to identify efficiencies by streamlining information & processes while also enabling clinicians to make smarter decisions and increasing the level of patient care provided. With 40+ years of working with healthcare customers across the U.S., our programs and methodologies ensure healthcare enterprises will get the maximum return on investment.
About iTreatMD
iTreatMD unlocks the research and evidence-based treatments that are currently available to only a select few doctors, enabling each clinician to become the best doctor and standardize care. Our proven clinician-facing tools dramatically reduce encounter documentation time and eliminate transcription costs, allowing for more time focusing on patient care. Our Clinical Workflow & Revenue Enablement application can provide highly specific solutions on a single platform to assist clinicians to treat their patients in conformance with top standards and practices.