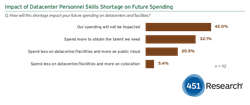 New York, NY (PRWEB) September 14, 2017
Despite ongoing consolidation worldwide and migration to public cloud, today's datacenters are well-equipped to handle physical infrastructure requirements for the foreseeable future. Nearly 60% of organizations worldwide surveyed in 451 Research's latest Voice of the Enterprise: Datacenter Transformation study said they have enough floor space and power capacity to last at least five years.
Further, while the total number of IT employees is expected to decline over the coming 12 months, most organizations said the number of personnel dedicated to datacenter and facility tasks will stay the same or increase. This solid outlook was most often attributed to overall business growth (63% of respondents), but more than a third of organizations also pointed to demand from project-driven growth.
As a result of these demands, 73.7% of organizations said that recruiting for datacenter and facilities is at least moderately difficult. Respondents pointed to three common reasons: current candidates lack skills and experience, salary asking prices are too high, and a lack of candidates in the organization's region.
"The good news is many organizations are not facing a datacenter and facilities skills shortage at this time," said Christian Perry, Research Manager and lead analyst of 451 Research's Voice of the Enterprise: Datacenter Transformation. "Those who do have recruitment challenges say they most often train existing staff to learn new skills due to the dearth of available talent."
Only 19.2% of the surveyed organizations facing these skills shortages said they would use managed service providers to fill the gaps. While this limits the opportunity for traditional MSPs and infrastructure vendors to offer value-added services, it creates opportunities for them to assist customers with training, for example providing education on eco-friendly HVAC (heating, ventilation and air conditioning) technologies.
Similarly, only 20.5% of the organizations that face skills shortages plan to move spending to public cloud, compared with 42% that said spending will not be impacted by those shortages, and 32.1% that said they will spend more on talent. However, 451 Research analysts found differences between organizations that have more generalists than specialists across their IT team.
"When IT teams consist primarily of generalists, they are more likely to invest to secure talent compared with specialist-heavy firms," Perry said. "We find that siloed organizations tend not to be in a significant period of IT team transition, whereas generalist firms are transitioning to become even more generalist-heavy. This can backfire when personnel leave or retire, forcing them to scramble to find specialist skills in facilities, for example."
451 Research believes datacenter and facilities have rarely been the first choice for budding IT enthusiasts, and less so in today's cloud ecosystem. Further, the few skilled personnel in these areas are recruited heavily – and paid well – by large cloud service providers with massive datacenters. This leaves a dwindling pool of talent for enterprises without the same resources or allure.
About the survey
Combining 451 Research's industry-leading analysis with an extensive network of over 60,000 senior IT professionals, Voice of the Enterprise: Datacenter Transformation tracks the disruption occurring in the market and exposes the major opportunities for enterprises, IT vendors, suppliers and investors. The latest study, published in July 2017, represents more than 680 web-based surveys completed by IT and datacenter/facilities decision-makers worldwide, supplemented by 16 in-depth phone interviews. The sample is representative of small, medium, large and very large organizations in both the private and public sectors.
About 451 Research
451 Research is a preeminent information technology research and advisory company. With a core focus on technology innovation and market disruption, we provide essential insight for leaders of the digital economy. More than 100 analysts and consultants deliver that insight via syndicated research, advisory services and live events to more than 1,000 client organizations in North America, Europe and around the world. Founded in 2000 and headquartered in New York, 451 Research is a division of The 451 Group. Learn more.
For media inquiries please contact:
Kaitlin Buckley
Kaitlin.buckley(at)451research(dot)com
617-598-7212