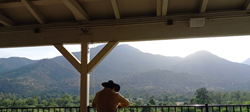 LOS ANGELES (PRWEB) July 27, 2022
Emerging country-rock artist Datar Sahi and his band The Hired Guns released their debut single, Honey Bee, in May of 2022. The single was quickly added to popular Spotify playlists like "Country Rock 2022", "Rock Gems", and "Ozark" - a playlist for fans of the Netflix show. The three aforementioned playlists have a combined total of 21,356 likes, organically bringing Honey Bee in front of a larger Spotify audience.
As the reviews start coming in, Datar's natural connection with his audience is clear. As one reviewer said, "The introduction to "Honey Bee" opens with a dark and tense-like sound that easily establishes a connection between himself and the audience. The vocal production throughout the song is great because most listeners are able to hear the passion that Datar places behind each lyric." Another reviewer agreed, remarking that "Honey Bee grabs the listener's attention immediately."
As the world slowed down in 2020, Datar traded Venice Beach for Bend, Oregon where he wrote and composed a series of original songs, preparing for the world to move again. Before returning to Los Angeles he drove to Nashville with a vintage trailer in tow, playing shows along the way. He cut Honey Bee and several additional tracks at Saxman Studios; Honey Bee is the first single out of the gate. Follow Datar and his journey on Instagram and Tik Tok.
Datar & The Hired Guns have multiple residencies and upcoming shows in Los Angeles for those interested in experiencing this new artist's unique sound that some call "Country Funk" and "City Country".
This won't be the last you hear from Datar & The Hired Guns – they're already working on writing new material and based on the quick traction gained by Honey Bee the music is something to look forward to.
About Datar: Originally from Oregon, the band Datar & The Hired Guns is taking LA by storm with a well-reviewed debut single and several residencies at popular LA venues. One reviewer describes the sound like this "There's an energy and ever-increasing power that radiates the entire time – never loses that energy". Keep up with Datar on Instagram and Tik Tok.