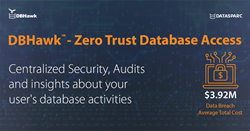 What we are providing is zero trust database access, meaning that as a user, you start with zero trust. We will give data access only to what you need. Nothing more, nothing less
SAN DIEGO (PRWEB) June 17, 2021
San Diego, CA-based Datasparc Inc. announced recently that it has achieved Select Technology Partner status in the Amazon Web Services (AWS) Partner Network (APN). As an APN Select Technology Partner, Datasparc is now included in the AWS Partner Solutions Finder and eligible to participate in AWS marketing programs.
Datasparc's flagship web-based database management product, DBHawk, can be used with the various database services available on AWS, including Amazon Athena S3, Amazon DynamoDB, Amazon RDS, and Amazon Redshift. DBHawk also supports Cassandra, MongoDB, Oracle, Microsoft SQL Server, Postgres, MySQL, SAP HANA, Vertica, and Teradata. Moreover, it supports Snowflake, one of the fastest growing cloud-based data warehouses. It is perfectly scalable and able to accommodate large numbers of users.
Datasparc offers data security, database management, data governance and data analytics - all in one solution. With Datasparc's flagship product DBHawk, users only receive access to the data they need. DBHawk integrates with SAML, LDAP, SSO, and OKTA. Its comprehensive object access control policy, dynamic data masking and auditing features allow logging all database activities, making it ideal for organizations seeking to comply with data protection regulations such as GDPR and HIPAA.
Datasparc's roadmap for DBHawk includes integrating artificial intelligence (AI) and machine learning (ML) into the platform. These will allow DBHawk to automatically scan data, identify attributes, and suggest policies to eliminate manual work and further harden security, further streamlining customer workflows.
CIOReview has named Datasparc as one of its Top 20 Most Promising Enterprise Security Solutions Providers.