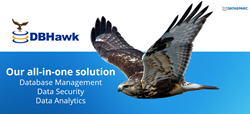 All-in-one database software for securing and tracking production data access
SAN DIEGO (PRWEB) July 23, 2019
With the new SaaS-based Datasparc transitions DBHawk as a true cloud solution that is Enterprise ready due to its ease of scalability, reliability and security! With the new SaaS release, DBHawk will allow enterprise customers to scale their databases on premises as well as in the cloud.
DBHawk's version prior to the new one is a web-based database management and data security tool that provides secured data access across a wide range of SQL and NoSQL databases. The tool has won praises from its many users because of its central database security, access control, auditing capabilities, and flexible customization features. The new SaaS version provides Okta and LDAP integration with many new features. With Okta integration, IT can manage database access across cloud and on premises.
The SaaS version of DBHawk offers many features, including the following:

The ability to manage Oracle, Microsoft SQL Server, Amazon Aurora, Amazon RDS, Redshift, Teradata, MongoDB, MySQL, PostgreSQL, Presto, Hive, Cassandra and DB2
The ability to do VPC peering
Okta integration
LDAP integration, AES-256 encryption, SSL Support, Single Sign-On, Auditing, and Role-based access control capabilities
Provides browser-based GUI without installing client software on PCs
Database security and auditing capabilities
License and subscription management
Manage users, data sources, and logs from within a single dashboard
Extensive set of tools, including a job scheduler, snippets, and SQL query builder
SQL Charts and Dashboards
Data export to CSV, PDF, Excel and to S3
Data import from CSV and from S3 to database tables
Robust online SQL editor with commit and rollback capabilities
Operations-wise, DBHawk SaaS solution will make it easier to provision database access to internal users and provide secure access to data to customers. DBHawk's Zero Trust security model allows customers to provision precise and needed only data access to internal as well as external data users with auditing in place. DBHawk provides central auditing capabilities across all databases and not just against single database. Another huge advantage of using DBHawk since user interface is the same no matter which database is being accessed. With DBHawk, database administrators will be able to concentrate on the more important tasks of creating robust databases that can meet the increasing performance requirements of today's applications.
The launch of the new DBHawk version signifies Datasparc's continuing commitment to provide a single platform for managing heterogeneous databases; which is secure, reliable and scalable, which are very important attributes for the enterprise solution. It lets enterprises receive and provide quick and secure access to their ad-hoc data needs, regardless of whether they're stored on-premises or on the cloud.
"With this new version of DBHawk, we are bringing the advantages of our web-based tool to the ever-growing and increasingly attractive market for cloud-based solutions", said Manish Shah, the Founder and CEO of Datasparc, adding that "we are always making the tool even more capable by incorporating support for more databases and new data security tools based on various customers feedback in the near future."
About Datasparc:
Headquartered in San Diego, CA, Datasparc offers database management, data security, with a central audit log and data analytics tool compatible with various databases, including on-premises as well as databases hosted in the cloud. Their goal is to be a leader in the secure database management through providing innovative, easy-to-use tools for accessing, integrating, developing, and analyzing data.