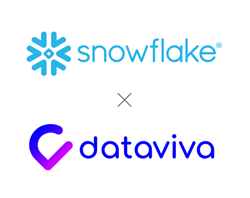 ATLANTA (PRWEB) January 14, 2022
Dataviva today announced that it has launched its Cloud Retail Planning Suite of planning and supply chain applications with Snowflake, Data Cloud company, as part of the Powered by Snowflake program.
This solution will benefit global retailers by unifying their planning and supply chain processes with data analytics, business intelligence and reporting, directly on the Snowflake Data Cloud. With Dataviva's Cloud Retail Planning Suite, retailers will be able to:
● Integrate guided, task-driven planning workflows on top of existing systems without long transformation projects,
● Leverage best-of-breed, retail-specific demand forecasting capabilities such as fully automated new item forecasting,
● Maximize profitability, increase sales and improve customer satisfaction by optimizing assortment, inventory, pricing and promotion decisions,
● Bring together data from across their operations to inform merchandising and execution decisions while having real-time, up to date reporting and analytics powered by Snowflake.
"Our team has deployed planning and supply chain solutions for some of the world's largest retailers; what we've heard time and again is that planning and decision-making workflows must be tightly integrated with other systems, particularly data analytics and business intelligence. By deploying our real-time, low-code retail planning platform and suite of applications directly on the Snowflake Data Cloud, we are making that vision a reality for retailers. We are excited to be showcasing our offerings in the NRF BIG Show 2022 in New York.", said Costas Malamas, CEO, Dataviva.
"Dataviva's Cloud Retail Planning Suite combined with Snowflake's Data Cloud comprise a powerful combination of capabilities that can streamline the merchandising, assortment and demand planning processes for retailers and help mobilize data in the service of the enterprise", said Rosemary Hua Global Head of Retail and CPG.
About Dataviva
Dataviva is building a next-generation, low-code retail planning platform that combines collaborative planning capabilities with real-time data analytics. Dataviva solutions can be overlayed on top of existing IT infrastructure, adding predictive and optimization capabilities to legacy systems with minimum disruption and quick, agile deployments.
For more information on Dataviva and its retail solutions, please visit https://www.dataviva.com/