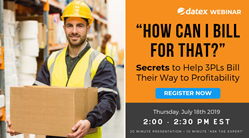 "Billing is often one of the biggest challenges 3PLs face" explained Michael Armanious, Vice President of Sales and Marketing for Datex.
CLEARWATER, Fla. (PRWEB) July 11, 2019
With outsourcing and supply chain complexity on the rise, third party logistics providers continue to expand the wide range of services offered to manufacturers and retailers, filling critical voids in fast-paced operations. More than ever before, 3PLs are performing activities which would not have been outsourced only a few years ago. As many third party logistics providers have yet to transition from legacy warehouse management systems to cutting edge 3PL WMS , they lack the flexible technology needed to accommodate changing industry demands and customer requirements. Consequently, money may be "left on the table", resulting in unrealized revenues and lackluster profitability.
On Thursday July 18th at 2 PM EST, supply chain software developer Datex will host a thirty-minute webinar presentation on billing for 3PLs entitled "How Can I Bill for That?": Secrets to Help 3PLs Bill Their Way to Profitability. Registration is free and will be accepted up until the time of the event.
The 20-minute webinar presentation will include information for 3PL warehouse operations including:

The hottest 3PL billing strategies
The "secret weapon" technology used by top 3PLs to generate more revenue
Uncommon accessorial charges and handling fees for which 3PLs may need to bill
Ten minutes has been allotted for an "Ask the Expert" session following the presentation.
"Billing is often one of the biggest challenges 3PLs face" explained Michael Armanious, Vice President of Sales and Marketing for Datex. "Often a 3PL warehouse does not even realize how much time and labor is invested in billing each individual customer. If they are using an older WMS, they may have had to use manual processes and workarounds for years to accomplish it. While their process may work, it is probably error-prone and labor and time consuming. Once they are shown how much time today's technology can save their business, it can be quite eye-opening."
Third party logistics companies need to be able to bill quickly and accurately for such services as pick and pack, reverse logistics, information technology services, quality assurance and logistics processes and much more. 3PL providers who are able to do this using an automated, flexible multi-client billing system are typically able to be more competitive, profitable and able to meet the changing demands of their customers.
About Datex
In business for over 40 years, Datex provides end-to-end information technology solutions for supply chain operations including warehouse management software, business intelligence, mobile computers and printers and services including EDI, integrations, implementation, training and project management. Datex software is used for e-commerce omnichannel order fulfillment and 3PL operations as well as in other industries such as food and beverage, pharmaceutical and healthcare. Benefits of using Datex FootPrint® WMS include cost savings from labor productivity enhancements,3PL decreased shipping costs, improved inventory management, The Datex WMS integrates to ecommerce stores, shipping carriers and systems to check shipping rates as well as to material handling solutions
Access Datex via social media: Facebook, Twitter and LinkedIn.