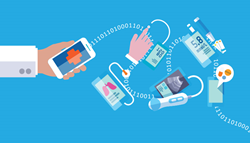 We are delighted to partner with Med-e-Mass. Their forward-thinking approach to involve insurers, patients and physicians under one health management platform will greatly improve the management of chronic conditions and reduce associated costs
Tel Aviv, Israel (PRWEB) April 26, 2017
Datos Health, developer of a pioneering Patient-Generated Health Data (PGHD) management solution, today announced a new partnership with Med-e-Mass, the largest Electronic Medical Records (EMR) provider in South Africa. By using Datos' PGHD platform, the partnership will enable Med-e-Mass to link care plan incentives to a patient's remote health progress, empowering the patient to take direct responsibility for their cost of care.
This novel approach of integrating insurers within the monitoring process alongside a patient and their doctor, is anticipated to significantly improve patient engagement while delivering enhanced care at a lower cost.
Datos' proprietary technology helps health care organisations, care teams and patients better manage PGHD on a large scale at a fraction of current costs, eliminating the need for costly call centres. Cutting-edge data validation and automated care processes ensure that only reliable and relevant PGHD emitted by any wearable medical monitoring device is seamlessly incorporated into the clinical workflow, enhancing decision support with no additional effort. The platform also increases patient engagement and automatically optimises care plans with the use of a personalised messenger bot.
The Datos platform is currently transforming the digital capabilities of leading healthcare organisations in the U.S. and Israel. This partnership activates Datos' first large-scale implementation in South Africa involving hundreds of thousands of chronic patients.
"We are delighted to partner with Med-e-Mass. Their forward-thinking approach to involve insurers, patients and physicians under one health management platform will greatly improve the management of chronic conditions and reduce associated costs," said Uri Bettesh, CEO & Founder, Datos Health.
"Our partnership with Datos will enable us to provide a new approach to personalise care plans for better patient management," said Gideon Brits, Managing Director, Med-e-Mass. "Using Datos' automated PGHD platform, we will expand our capability to manage a complete health profile on a large scale."
About Datos Health:
Datos Health is a digital health startup that is setting a new standard in remote patient care. Datos has developed a proprietary IoT (Internet of Things) platform that makes sense of, and more efficiently manages, the limitless amounts of patient-generated health data (PGHD) produced from wearables and personal medical devices. Sophisticated algorithms and automated care processes, combined with integrated in-depth patient insights and expert clinical predictions, help healthcare organizations enhance large-scale patient care at a fraction of the current cost, removing the need for costly call centers. The secure technology is rapidly implemented and easily integrated with existing Electronic Health Records (EHR).
Visit http://www.datos-health.com for more information.
About Med-e-Mass:
Med-e-Mass is a part of the South African JSE-listed Altron Group, forming part of the business that focuses specifically on healthcare IT and e-commerce.
Med-e-Mass provides more than 10 000 users with a wide range of Practice Management Application software and business solutions. Financial solutions include credit and store card payment solutions. The company offers comprehensive Electronic Medical Records (EMR) solutions such as HEALTHone and HEALTHone Connect to both private and corporate clients servicing both Primary Healthcare and Occupational Health. These solutions, together with close links to medical insurance funders, firmly positions Med-e-Mass as the trusted provider of healthcare solutions in South Africa.
Visit http://www.medemass.com for more information.