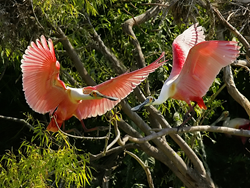 We chose Dauphin Island as our newest target destination because it is the first piece of land many migrating birds find s they cross the Gulf of Mexico....
Mobile, AL (PRWEB) September 30, 2014
Naturalist Journeys, a top nature and birding tour company, announces the Dauphin Island Birding and Nature Tour from April 12 - 17, 2015. The tour is specially designed to feature the diverse migratory birds found on the Gulf Coast.
"Dauphin Island, Alabama has been overlooked by tour companies for years. We chose Dauphin Island as our newest target destination because it is the first piece of land many migrating birds find as they cross the Gulf of Mexico," says Naturalist Journeys CEO Peg Abbott.
Naturalist Journeys is one of the first tour companies to feature Dauphin Island, an emerging birding hotspot.
Neotropical migrants are a popular sight on the island. The region is known as an outstanding "fallout" location, where migrating birds drop out of the sky in search of food, fresh water, and rest. Over 400 bird species have been recorded around Dauphin Island, and this April tour is designed to highlight many of these migrants.
Hotspots on Dauphin Island include Indian Mound Park, where ancient piles of discarded oyster shells stand amidst a diverse array of biddings and plants. At Bayou La Batre, travelers will find shorebirds and marsh species, raptors, kites, gulls, and more. West End Beach features Wilson's and Snowy Plovers alongside gulls and terns.
The tour includes regional highlights near Dauphin Island. Travelers will spot Magnificent Frigatebirds on a ferry to Fort Morgan, a popular bird banding site. An exciting cruise through the Mobile-Tenesaw Delta reveals Osprey, Bald Eagles, Alligators, Pelicans, and Nutria. The Bon Secour National Wildlife Refuge highlights nesting sea turtles, migratory birds, and the endangered Alabama beach mouse.
The Dauphin Island Birding and Nature Tour also explores the region's fascinating plant life. Weeks Bay hosts a pitcher plant bog with a boardwalk leading travelers through the strange world of carnivorous plants. On Dauphin Island, ancient oak trees are estimated to be nearly 800 years old.
"Naturalist Journeys' commitment to Dauphin Island is an extension of our desire to support critical birding habitats. Dauphin Island has only recently become a protected site. We feel that it deserves to be a premier Eco travel destination," says Abbott.
More about Naturalist Journeys' April 12-17, 2015 Dauphin Island Birding and Nature Tour:
This tour begins and ends in Mobile, Alabama, and is limited to 12 participants. The walking pace of the tour is moderate, with established trails and roads.
About Naturalist Journeys, a Top Nature and Adventure Tour Company:
Naturalist Journeys specializes in small group birding tours and natural history tours of key sites across North and South America and around the world. The company's expert guides lead participants on intimate small group tour journeys for bird-watching, animal-watching and other forms of eco-tourism. Naturalist Journeys is a small adventure travel company that puts people, places and remarkable experiences together. Their style of environmental tourism focuses on nature -- specifically birdwatching, natural history, geology and geography.