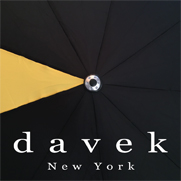 Umbrellas are easy to lose...Davek Loss Alert solves an age-old problem that had vexed umbrella owners for decades.
NEW YORK (PRWEB) July 25, 2018
Davek Accessories today announces that it has been issued a utility patent for its unique Loss Protection technology, demonstrating the Company's commitment to innovation in the umbrella category—US Patent 10,002,516. The loss prevention technology is already integrated into one model, the Davek Alert, and the Company now plans to develop an attachable module for any umbrella.
The company calls this new innovation "Loss Alert" technology, which wirelessly connects your umbrella to your mobile phone creating an invisible tether. The umbrella features a tiny beacon chip designed to broadcast a special proximity signal. The signal is read by an app on your smartphone which can track the distance between the phone and umbrella. If the distance exceeds a certain range—approximately 30-50 feet—the umbrella will send a subtle reminder to your phone: Umbrella is out of range.
"Umbrellas are easy to lose, easy to accidentally leave behind. No one was using today's technology to solve this problem, so we set out to create it," said Dave Kahng, CEO and Co-Founder of Davek. "Davek Loss Alert solves an age-old problem that had vexed umbrella owners for decades. We are the first umbrella manufacturer to use this technology in this fashion and we understand the need for continued development and protection of the intellectual property that surrounds it."
Davek's high-tech umbrella joins the growing array of everyday devices that now feature a new level of internet-based connectivity. Devices that use this technology are using proximity awareness—the distance between the phone and the device—to activate features on your phone. Home door locks, thermostats, fitness trackers—and now, umbrellas—are all using proximity awareness technology to make your life easier.
The Davek Loss Alert app is free and can be downloaded from the Apple App Store. Once activated, the umbrella will connect to your phone within seconds when you pick up the umbrella. The service can easily be turned on, off, or paused with a tap on the notification. The app is currently only available for Apple iPhone (Android version due next year).
About Davek
Since 2005, Davek Accessories has been producing uniquely strong and technically superior umbrellas designed to endure over time. The line of durable umbrellas is a refreshing alternative to the disposable products filling an industry plagued by planned obsolescence. As testimony to its line's quality, every umbrella comes with the company's Forever Guarantee: If, for any reason at any time, the umbrella should fail to function properly, the company will gladly repair or replace it for free (except shipping). The company features a selection of eight umbrella models, priced from $49-$350 and can be purchased online at http://www.davekny.com.