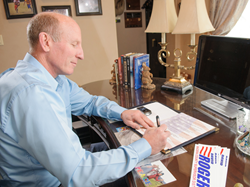 Madera, CA (PRWEB) September 26, 2014
David Rogers wants to ensure that the High Speed Rail is defeated, so much so that he has announced that it is on his top-five list of priorities for his second term as County Supervisor. He has already made a great deal of headway in ensuring that the rail project is defeated, as he has already met with high-ranking officials involved with the project.
"There are many issues with the project," says Rogers, "in particular the impact that it will have on the local agricultural community in Madera County." The plan would result in the loss of thousands of acres of agricultural land, which is an outcome that Rogers believes should not even be considered. Not only has Rogers opposed the plan, but he has also outlined feasible alternatives that would not be disruptive to agriculture.
In addition to the impact on the farming community, the High Speed Rail also represents a potential financial boondoggle. The project could cost almost $70 billion, a figure that is shocking given the current economic state that California is in. With budgetary shortfalls and significant debt, Rogers believes that now is not the right time to spend such an exorbitant amount on a project that would have such a negative impact on so many parts of the state.
Of course, the defeat of the High Speed Rail is not the only priority that Rogers has delineated for his second term. He has also expressed the importance of being proactive with regard to water, law enforcement, public safety and road repair. These are significant issues in Madera County, and the plan that Rogers has come up with for each has been supported by many prominent members of the community.
The water issue has been a significant one for the people of Madera County, and Rogers' actions have been exceptionally helpful in combating the water scarcity issue. Through the removal of bamboo from five miles of the Ash slough and other methods, significant gains have been made with regard to water scarcity.
It is Rogers' belief that his second term will continue to be as successful as the first. One of the measures of this success will undoubtedly be related to the defeat High Speed rail.