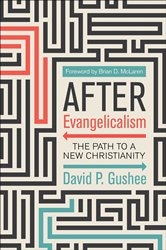 "After Evangelicalism presents a serious set of proposals for how those who identify as post-evangelicals can move forward in their Christian journey."
LOUISVILLE, Ky. (PRWEB) August 25, 2020
In 2014, the Pew Research Center's Religious Landscape study revealed that nearly 8% of the US population comprised adults who had been raised evangelical but had either switched to another religious tradition or no longer identified with any religious tradition at all, roughly 25 million Americans. White evangelicalism, in particular, has seen many leave the faith in droves, especially after white evangelical support of Donald Trump coalesced during the 2016 election. Many of those who have left have branded themselves #exvangelicals, exvangelicals, or post-evangelicals. How should these post-evangelicals move forward? Many wonder if they should leave Christianity and Jesus all together.
But there is a path forward, a way to reconcile the beliefs we have as Christians out of the maze of evangelicalism into a new kind of Christianity, one that cultivates a living relationship with Christ and provides us with a morally robust faith. David Gushee (author of Still Christian and Changing Our Mind) offers such a way in his new book, After Evangelicalism: The Path to a New Christianity. This approachable yet ethical work—written after a lifetime of leadership in evangelicalism, higher education, and academic professional societies—is the culmination of Gushee's entire personal and professional journey. After Evangelicalism is neither a vent nor a rant, but rather a serious set of proposals for how those who identify as post-evangelicals can move forward in their Christian journey.
Divided into three parts, the book addresses the significant concerns driving evangelicals out of evangelicalism such as evangelical identity, biblical interpretation, sexuality, politics, and race, as well as offering a new ethical framework for broken-hearted and disillusioned post-evangelicals to continue to follow Jesus. "I feel a profound sense of responsibility to help this surging population of evangelical exiles chart a way forward, if I can offer something that might be of value," Gushee writes in the introduction.
"Thinking about Christianity after evangelicalism is neither trendy, alarmist, nor faithless, but carving out a needed path forward for those millions of exvangelicals who have found the movement that birthed them to be irrelevant, traumatic, and even abhorrent, and are seeking a place to land," says Peter Enns, author of How the Bible Actually Works. "Few have earned the right to speak to this topic with such prophetic clarity and practical insight, not to mention approachable writing style, as David Gushee."
After Evangelicalism is now available from Westminster John Knox Press.
David P. Gushee is Distinguished University Professor of Christian Ethics at Mercer University and past President of both the American Academy of Religion and the Society of Christian Ethics. He is the author of more than twenty books, including Kingdom Ethics, Changing Our Mind, and Still Christian.