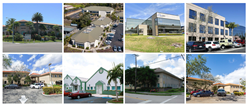 SAN DIEGO (PRWEB) October 06, 2020
David Hamilton, Principal at PSRS, recently closed $89 million in portfolio financing on 8 medical office buildings located nationwide. The financing was arranged on behalf of a large medical office landlord and funded by one of PSRS' CMBS lenders. PSRS was able to achieve a cash-out re-finance on the borrower's existing portfolio, reducing the equity need for the new acquisitions. PSRS also successfully provided the sponsor maximum leverage and was able to incorporate three years of interest only along with a non-recourse structure.
David Hamilton has worked alongside this borrower as their exclusive financing agent since early 2016. Over that time period, PSRS has financed approximately $200M in financing on behalf of the sponsor.
Additional complexities in the transaction included:

Ground lease property
Acquisition of the seller's entities rather than the properties (saving borrower on transfer taxes)
An entity on the carve out guarantee
Quick close - Inside 45 days from day of application
David Hamilton finances all commercial property types with all available capital sources nationwide.
Direct: (858) 522-1451
Email: dhamilton@psrs.com