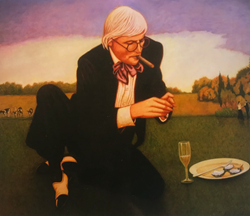 Memorable Moments of David Hockney's Rich Tapestry of Life are sealed in these extraordinary paintings.
NEW YORK (PRWEB) February 14, 2020
Christies Auction of Bob Marchant's Peter Langan's feast for David Hockney at Glyndebourne to celebrate the first night of the "The Rake's Progress" sold on the 18th of December 2012 for a record breaking GBP 40,850 (USD 52,920)
Anthony Horth Gallery presents a limited release of 5 Portraits in Oil. "A day at The Glyndebourne Opera House with David Hockney" Marchant's portraits depict many of Hockney's rich and famous friends who turned up for the celebration.
Marchant first met Hockney in the mid 60's in London. His good mate Peter Langan had just set up his famous restaurant Langans Brasserie. Peter introduced Bob to David who was already on his way to becoming famous. With Hockney's original paintings on the walls of the restaurant, David agreed to do a drawing that would be on the front cover of the restaurants menu. When Peter introduced Bob to David he told him I'd like you to meet my dear friend "Golden Touch,'' Even Hockney laughed when he heard that description. Marchant shook hands with Hockney and was then invited to join him at the restaurant table to drink a rare expensive bottle of French brandy with Peter and his two partners Richard Shephard and actor Michael Caine. Once seated Hockney produced a handful of coloured pencils and by the time the bottle was empty, two hours had passed and he had produced a wonderful portrait of the three of them that would feature on the cover of the menu.
Marchant says "From that moment on Hockney became my favourite British artist and I have greatly admired him ever since. My judgement proved to be correct when a painting of his of boyfriends in a swimming pool in 2018 sold at auction for 90 million US dollars."
Marchant recounts his memories of Hockney's career and his inspirations for painting this event:
David Hockney by 1975 was at the height of his powers, he had become Britain's best known and most successful modern artist. In the late sixties he had escaped to California where he has lived on and off ever since, only spending time in England for brief periods for social reasons to see family in Bradford and friends in London, or when work demanded. In 1975 Hockney was commissioned to produce set designs for Stravinsky's The Rakes Progress to be performed at Glyndebourne, England's famous opera house.
By then in the mid 70's Langan's Brasserie was now one of London's most popular restaurants, a place to eat and be seen rubbing shoulders with a gaggle of celebrities who still believed they were living in the swinging sixties, still swilling Champagne by the bucket full, still kicking up their heels, still thumbing their nose at the rest of the world and still behaving badly. They were called The Café Society. By 1975 Langan's Brasserie had become a paparazzi photographers favourite playground. All a photographer had to do was to prop himself up at the bar or hang about outside the front door knowing it would be just a matter of time before the "who's who" of London's glitterati would appear, get sloshed and hopefully make fools of themselves.
As Langan and Hockney were good mates Peter decided he would prepare a great banquet for David and a 100 of his friends who would be attending the opening of The Rakes Progress. It would be held on the lawns in the magnificent gardens outside the famous Glyndebourne mansion where the opera was being performed. It had always been the custom for people from London attending the opera to bring a Fortnum and Mason hamper, a rug would be spread out on the lawn in front of the opera house, a cork or two would be popped and the hamper eaten before going inside for the first curtain call late in the afternoon. Tickets for an opening night at Glyndebourne are rare as gold teeth, only available for the privileged few who could afford them. Opera lovers would agree tickets are harder to come by than receiving an invitation to be a weekend guest at Buckingham palace.
I had taken a lot of photographs for Langan that were now hanging on the walls of his restaurants but it still came as a surprise when he invited me to the opera house banquet and asked me to photograph the event. He told me he was banning all other photographers and I would be the official photographer. He explained Hockney had invited an impressive list of friends to attend the banquet which meant I would have plenty of opportunities to get good shots. The list included Henry Geldzahler who was at that time the director of New Yorks Museum of Modern Art. Many of Hockney's gay boyfriends from L.A. would be there, other important people were coming from Paris plus the rich and famous from all corners of England. I was gob smacked, even a little nervous at the thought. I had never been to an opera and had no idea what to expect, but Dimboola boys never take a backward step, so I dusted off my Pentax, bought a dozen rolls of film, put on my white suit and with Inger looking like a million dollars in a black velvet dress and a gypsy scarf we drove the 80 miles south to Glyndebourne. The English countryside that spring day had never looked more spectacular. We arrived early to check the lay of the land. Langan was there to greet us dressed in his chefs white hat and apron and his signature blue chequered trousers. He had dozens of helpers and waiters erecting large trestle tables covered in freshly ironed linen white table cloths. Under his supervision no detail was left unchecked. White orchids and lilies were placed at each end of the tables, large urns were filled with ice and bottles of vintage Krug were placed in each, then came the food, whole smoked scotch Salmon, legs of glazed ham, beef as it should be, pink as a babies bottom, shucked oysters on a beds of shaved ice, silver buckets full to the brim with prawns, golden breasted pheasants glistening, cheeses that could make you hungry for a taste and great silver chalices of Peters berry desert (mulberries, black berries, strawberries, all swimming in juice the colour of a French vintage Burgundy), these were all laid out under Langans watchful eye in readiness to greet Hockney's entourage. I thought to myself, "David had better come up with something pretty damned good at the opera or Langan's going to steal his thunder." As it turned out it was another great success for David, the dear boy could do no wrong, the critics loudly applauded. Once again he was to prove he had the golden touch.
My approach to photography was to try and be as invisible as possible. Cartier Bresson at this time was my hero and mentor. I had read everything ever printed about him. Apparently he went to great lengths never be noticed while taking photographs, even taping black plastic over the shiny bits of his camera so as not to draw attention to it or himself. He always wore dark clothes so he would blend into a crowd. I had noticed in all of his great photographs no one was ever looking at the camera. It was important that no one had been aware the photograph was being taken.
Everyone at Hockney's banquet was dressed formally, the men in black tie and tails, the women in long flowing gowns. As I was the only person wearing a white cotton suit I stood out and it meant my cover was instantly blown. I was also the only person with a camera amongst a pack of extroverts who wanted photographs of themselves taken with David so any chance of snapping unposed pictures was almost impossible. What I finished up capturing was a bunch of sycophants smiling into my camera like children do when asked to pose for a school photograph. Life for me was always about having a go and learning by my mistakes, what I learned that day was to handle situations like this better in the future.
After it was all over and I had developed the film in my darkroom I found three photographs I loved so it was not a total disaster. I gave them to Hockney and asked him to sign a set for myself. He was happy to do so. He studied one of my photographs. It was of him taking a Polaroid of the banquet table before any food was eaten. He thought for a moment then signed, "David Hockney" then in brackets after his name, "photographer amateur." At first I thought the bit in brackets was referring to me, but no it was one of his tongue in cheek jokes against himself. It bought a smile to my lips. By this time in his career everyone was aware of his ability with a camera. He had made a huge fortune selling his photographs in exhibitions around the world. He had done this by developing a technique of combining thousands of Polaroid pictures looking at his subject from multiple view points as in cubist paintings. Hockney always carried a camera with him wherever he went. By doing this for all the years since he first began painting every important moment he had lived had been captured visually. Even back then he had a complete library of leather bound albums in his studio that recorded photographically almost every day of his life.
Marchant continues to paint each and every day. Anthony Horth Gallery is pleased to present Bob's paintings of this memorable event that Bob has re-created from the photographs he took on the day.