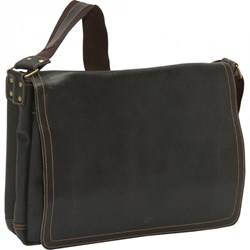 Since its founding in 1975, David King & Co has become the largest importer of South American leather in the U.S
Los Angeles, CA (PRWEB) December 31, 2013
Highly popular luggage and briefcase e-store GotBriefcases.com now features a wide array of briefcases, messenger bags, backpacks and business accessories from the David King & Co brand.
Located in Boston's historic leather district, David King & Co supplies the highest quality leather in America, mostly Vacquetta leather or distressed leather imported from Colombia, South America.
Soft, rich Vacquetta leather is natural in appearance and hand-crafted to produce an elegant authentic look. The company's tanning process locks in natural oils creating a soft durable hand that won't crack or become brittle with normal use. The company describes its styles as "bold in texture, classic in design and individual in nature."
Since its founding in 1975, David King has become the largest importer of South American leather in the U.S. Especially in high demand is the David King Distressed Leather Large Full Flap Messenger Bag, featuring a padded laptop computer section, integrated organizer and lots of pockets. The 15.5 x 11.5 x 4 bag weighs 4 lbs and is available in distressed café and distressed grey.
GotBriefCases.com founder and CEO, Vahram Tovmasyan, said, "The David King brand has a wonderful reputation and we're delighted to be able to offer its wide selection of bags to our customers. Everyone will be able to find David King messenger bags or leather briefcases for men that perfectly meets their particular needs."
Tovmaysan launched GotBriefCases.com in 2009 at a time when he had no prior experience in ecommerce and didn't even speak English. A friend gave him the idea and helped create the website. Tovmaysan rolled up his sleeves, learned English and began contacting manufacturers.
Today, the online retailer carries more than 50 brands and over 5,000 products in a multitude of different colors. Brands include household names such as Samsonite, Hartmann Luggage, Zero Halliburton's business collections, TravelPro Luggage, Kenneth Cole bags and Jack Georges.
GotBriefCases.com appeals to a wide audience including professionals such as attorneys, CPAs, businessmen and women, and teachers, as well as travelers and students.
What differentiates Got Briefcases from other luggage websites?
Tovmasyan said, "We are proud of the fact that we deliver premier customer service and very fast shipping times for David King leather, and other high quality briefcases for men and high-end messenger bags. We are the top-rated seller on eBay with almost 2,300 positive reviews and 98 percent positive feedback on Amazon. We deliver the same impeccable service to my gotbriefcases.com customers and at very affordable prices."
To find out more about the David King line and Got BriefCases' wide selection of products including leather briefcases, laptop cases, computer bags, messenger bags and backpacks, visit their website at http://www.gotbriefcases.com.