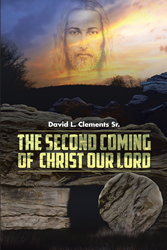 MEADVILLE, Pa. (PRWEB) October 07, 2020
"The Second Coming of Christ Our Lord": a brilliant work that guides one to prepare and be equipped for their eternal life and the Coming of the Savior once again. "The Second Coming of Christ Our Lord" is the creation of published author David L. Clements Sr., a talented writer of great works.
Clements Sr. writes, "Genesis 1:1: 'In the beginning God created heaven and earth.' Note: I believe that God is an all-powerful Creator. That any person with basic common sense can understand. You cannot understand God without first believing that there is a God. To understand God, you will have to get back to the basics. You have to understand that man back in the time when the book was written only used what he had around him to describe what he was writing. I believe that God created all things by using atoms, which connects us to him. We cannot separate from these connecting atoms of God until we refuse to believe that he is the Creator. Until we die, we have the choice to believe or not. But once we do not choose to believe, at death we are separated from him and cannot be reconnected.
"Genesis 1:2: 'And the Earth was without form and void. And darkness was upon the face of the deep. And the spirit of God moved upon the face of the waters.'
"Genesis 1:3: 'And God said, 'Let there be light; and there was light.' I believe that God is all-powerful atoms of a loving father of all people that believe in him, to anyone who will just basically believe, but those who choose not to believe will live without the light and will be in darkness of knowledge for life and death.
"Genesis 2:7: 'And the Lord God formed man of the dust of the ground and breathed into his nostrils the breath of life; and man became a living soul.' Again you have to see that in that time the words in that time had no way to relate to what I believe was dust then atoms now. God is first and foremost the ultimate, the original scientist, way ahead of our time and never to be caught in terms of knowledge. An all-loving Father of creation. The creation is not perfect, but the Creator is. His children are also not perfect, but only by believing in the Father's Son will we one day become perfect as the Father. Another interesting thing that God did was to not let Enoch die as others before him. The book declares that God took him as he was to heaven. So many times we have heard that planes and ships have vanished, but God may have taken these chosen people home to heaven, like he did with Enoch and Elijah.
"Genesis 5:24: 'And Enoch walked with God: and he was not for God took him.' In the book of Genesis, referring to the living soul placed in man by God, if man creates or clones a man and the man has no soul, he is void of God's connection; therefore, the man that is cloned is anti-God and has no soul. Animals have no soul put in them by God; therefore, it can be cloned. There is no doubt that man and woman had the gift of God to live forever but did not listen to God's simple instructions: to not eat of the tree. So therefore, God had to drive man from the very place we want to be—God's place attached to him as a loving father, real and looking out for the good of his children who believe in him. Today's questions are still as interesting as back when the Bible was written, maybe even more as to why man did not and still will not listen to God. There is no tale in telling this story, for this is a true story. On capital punishment is very clear in Genesis 9:6, 'Whoso sheddeth man's blood by man shall his blood be shed; for in the image God made he man.' Another realness of God is in Genesis 11:5, 'And the Lord came down to see the city and the tower which the children of men built.' This proves that God traveled from heaven to earth. September 11, 2001, the war between good and evil began. The Antichrist of the faceless god to the terrorist Ali has lifted its ugly head and struck out at the Christian believers around the world. Our God of the Holy Bible will prevail through Jesus Christ our Lord. Take heart, all who believe and trust in the words of our Lord, which are in the Holy Bible. Satan's fate is already cast and our Lord and Savior will have the final word. And God will again travel to earth to claim his followers and destroy the Satan-led nations of the world and his people."
Published by Christian Faith Publishing, David L. Clements Sr.'s new book is a stirring discussion designed to bring hope and answers to everyone with regards to life eternal. The author wishes that this will bless the readers and bring them much closer to God.
View a synopsis of "The Second Coming of Christ Our Lord" on YouTube.
Consumers can purchase"The Second Coming of Christ Our Lord" at traditional brick & mortar bookstores, or online at Amazon.com, Apple iTunes store, or Barnes and Noble.
For additional information or inquiries about "The Second Coming of Christ Our Lord," contact the Christian Faith Publishing media department at 866-554-0919.