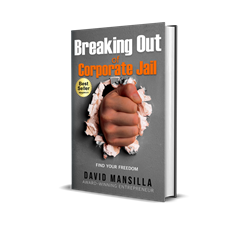 "I made this book as a guide for people who feel stuck in a way of life that doesn't fulfill them. Anyone with enough desire and creativity can live the life they've always wanted." - David Mansilla
KITCHENER, Ontario (PRWEB) July 29, 2020
David Mansilla is now an international bestselling author with his latest book release, Breaking Out of Corporate Jail. The book reached #1 International Bestseller status on Amazon in just five days, as well as earning the #1 Hottest New Release across multiple categories.
Over the last two decades, David Mansilla has overcome obstacles and created a life journey full of important lessons and incredible wisdom. In his book, Breaking Out of Corporate Jail, he offers his expertise on learning how to take the risk of leaving your corporate job, how to navigate beginning and maintaining your own business and how to master achieving the life of your dreams.
Are you tired of self-help books that offer advice with no foundation on real-life application? Breaking Out of Corporate Jail is not just another business strategy "how-to" book. This book is a journey where you learn first-hand from David's trials and tribulations, where the lessons are told through direct and concrete examples from a veteran self-starter.
David is a passionate entrepreneur that has created a lifestyle that balances having success in business and in life. David draws from the knowledge he's gained from other inspirational figures such as Tony Robbins, Tim Ferris and Richard Branson. Now as an award-winning entrepreneur and leader, David offers many valuable lessons to learn. With Breaking Out of Corporate Jail, readers will not only gain critical insight into the world of business, but will also observe how compassion, honesty, and persistence will take you further in one's professional and personal life. If there is one thing David has set out to achieve with his book, it is to make you expand what you considered to be possible and encourage you to reach your full potential!
Breaking Out of Corporate Jail takes readers through David's story, from having only $50 in his pocket and a family to feed, to closing deals with multinational corporations. Learn how he navigated the ups and downs of life, and how he personally achieved a life of abundant happiness. With just a few of his "golden nuggets", you will be able to reassess your goals and start building a happy and abundant life!
Breaking Out of Corporate Jail became a #1 International Bestseller within the first five days of it's launch! Grab a copy for yourself from amazon or davidmansilla.com to realize your new potential.
David is also the CEO and founder of the award winning software consulting company, ISU Corp. To see first hand what they bring to the world of technology and innovation visit isucorp.ca.