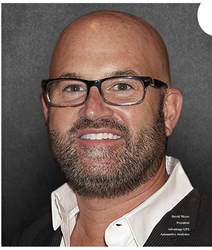 Responding to the VOC quickly and effectively is vital to the company's success.
IRVINE, Calif. (PRWEB) February 25, 2020
Advantage GPS, an automotive analytics company, announced today that David Meyer, president of Advantage, has been added to an elite list of tech leaders in Industry Era's 10 Best CEOs List.
Meyer, who has served in leadership capacities in the automotive industry for more than 25 years, earned the award for his continued success in leading a team of seasoned professionals in its mission to "replace outdated technology," in the automotive finance industry. Industry Era is one of the leading technology-based publications providing the latest news, events and insights into global leadership influencing the marketplace. The magazine has a keen editorial focus on variation in technology, management, world-changing ideas, creativity, and perspective of established leaders.
"It's truly an honor to be named among the nation's top CEOs," Meyer said. "This recognition is a testament to our teams focus on the voice of the customer (VOC) and the team's dedication in finding solutions to challenges in their businesses."
Industry Era noted that Meyer has been pushing the boundaries to reshape automotive technology by bringing numerous paradigm-changing innovations to market. Meyer oversaw the rollout of innovations, including being the first to:

Introduce predictive analytics using intuitive customer dashboards
Launch a family of self-battery-powered, wireless GPS devices
Introduce an all-new VIN verification solution
"The key to building a successful technology company is to listen to and understand what your customers need," Meyer said. "Technology is constantly evolving and helping us to deliver powerful data insights and tools that our customers need to gain a competitive edge."
He said responding to the voice of the customer quickly and effectively is vital the company's success. "Our clients must make one hundred or more decisions a day," he continued. "They know what would make their life easier and their business better. When they have suggestions or ideas about how to offer more and do it for less, we listen and respond with new or enhanced products, features and services."
"Collecting the data is a feat in and of itself," Meyer said. We collect over 900 million data points each day from our platform, and the true value, however, comes from the analysis of that data and the actionable business insights it provides for our clients. Our leading-edge AI dashboard provides intuitive predictive analytics that allow our clients to proactively make better business decisions in real time."
This prestigious 10 Best CEOs honor comes on the heels of several awards that Advantage GPS and its parent company, Procon Analytics has earned over the past year. Procon Analytics was added to CIOReview's 20 most promising data analytics solution providers in 2019. The company was named to two prestigious lists of top vendors in the automotive retail industry. Auto Remarketing named the company to its Special Finance 175 and Power 300 lists of the nation's top vendors. My Tech Mag named Advantage GPS parent company, Procon Analytics to its 2019 Top 10 IoT Tech Solution Provider list.
About Advantage GPS
Advantage GPS provides advanced telematics technology and real time automotive analytics that empower companies make smarter, faster and more profitable business decisions. The company's seasoned leadership team has been revolutionizing risk mitigation tools and real-time automotive analytics to help lenders protect vehicle assets, reduce delinquencies and speed up recoveries when needed for over a decade.