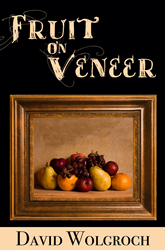 Whether poetry or play, short story or essay, each entry in Wolgroch's collection offers a delightful literary contribution worth both consuming and contemplating.
LONDON (PRWEB) November 24, 2020
The painting of an assortment of fruit pictured on the cover of David Wolgroch's latest book, 'Fruit On Veneer: Some Short Stuff,' not only relates to one story inside—it functions as a metaphor for the book itself: a collection of the authors' writings in multiple genres. Perhaps Forrest Gump's famous line about a box of chocolates fits even better, as with each offering, "You never know what you're gonna get." Whether poetry or play, short story or essay, each entry in Wolgroch's collection offers a delightful literary contribution worth both consuming and contemplating.
A psychologist, Wolgroch was raised in the Bronx. The son of Holocaust survivors, his Jewish parents and the associated ethnic, religious and cultural context hangs in the backdrop of nearly all the writings, and frequently plays a thematic role. The author wryly calls 'Fruit On Veneer,' "a collection of things I wrote." "Most of the writings in the collection have an amusing or comedic style," says Wolgroch. "Though they present serious underlying themes."
Early in the volume, readers find one of the most emotionally resonant pieces, a three-act stage play called "A Gift To Forget." Based on actual events from his childhood, Wolgroch's father, Chaim, and a Cuban immigrant named Jesoos, argue with mutual misunderstanding and English heavily accented from their separate native tongues—all to the amusement of the reader.
With no shortage of funny moments (including several wise cracking insights from the author, who appears on stage as his twelve-year-old self), "A Gift to Forget" touches on deep existential questions and the aftermath of unspeakable trauma. Readers witness characters stricken with symptoms of PTSD and "survivor's guilt." While Wolgroch tells us Chaim never questioned the existence of God, he struggles with reconciling his experiences in the death camps with the "goodness" of God proclaimed in Judaism. "He is not who we think he is…. He is amused at the suffering of his own creation," declares Chaim.
In "Epilogue," the author reflects on the life and legacy of his father, and includes the text of a touching eulogy the author delivered at his father's burial. A second film script, "Mali's Legacy," introduces another character descended from Holocaust survivors, and a hilarious mixup that leads to an unfortunate tattoo. At the center of "The Curious Pot" (told in both short story and film script) is a contraband cannabis plant growing in the kibbutz, and the consequent suspicions and whisperings of the neighbors. One of the four poems in the book, "The Palestinian Heart" shares a perspective on Palestinians different from that most often found in the mainstream media. Anyone who has ever wondered about the backstory of an unusual stranger will surely appreciate the whimsical "Living to Wait in Denver," (including photographic evidence of the stranger in question).
"Like a Stroll in the Park" rounds out the volume, presenting a summary, analysis and film script for Wolgroch's 2011 autobiographical 'Shrink,' which tells of the author's teenage involvement in a Puerto Rican extortion gang.
'Fruit On Veneer' is appropriate for adults and teens alike, and will especially interest Jewish readers, and those with an interest in the Holocaust. While the work is clearly popular and entertaining rather than academic, the author believes psychologists and other mental health professionals will profit from it.
"Anyone interested in a diverse illustration of the dynamics of life and relationships will appreciate the collection," says the author. "Universal themes of resilience, life milestones and adjusting to a changing and challenging world also play prominently."
'Fruit On Veneer: Some Short Stuff' by David Wolgroch is published in both paperback and eBook format by eBookIt.com. It is available at Amazon.com, Barnesandnoble.com, and other popular online retailers.
About David Wolgroch
David Wolgroch is an American born Clinical Psychologist. The son of Holocaust survivors, he was reared in the Bronx. Wolgroch resided many years in Israel, and has been living in London, England since 1995. Wolgroch published several professional articles and a few personal narratives based upon his diverse experiences, including dolphin therapy ('Cetacean Magic'), the Holocaust ('Creation Out of Nothingness'), membership in a Bronx gang ('Shrink'), and creative accounts of life events and society.
About eBookIt.com
Since 2010, eBookIt.com (based in Sudbury, Massachusetts) has helped thousands of authors and publishers get their books converted to ebook format, and distributed to all the major ebook retailers, including Amazon.com, Barnesandnoble.com, Apple iBookstore, Kobo, Scribd, Ingram Digital, and Google eBookstore.