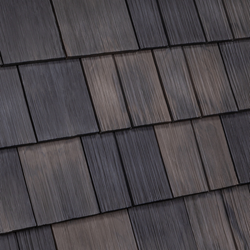 As we enter our 20th year of manufacturing composite roofing materials we continue fine tuning our product offerings.
LENEXA, Kan. (PRWEB) February 25, 2019
DaVinci Roofscapes®, a leader in the composite roofing industry, has added a fourth shake profile to its roofing product offering: DaVinci Select Shake. Created with the authentic look of real cedar shake taken from natural wood profiles, the multi-width DaVinci Select Shake tiles resemble a traditional cedar shake look.
Available in eight- and 10-inch widths, each DaVinci Select Shake tile is 22-inches long and has a 5/8-inch thickness. The 10-inch wide pieces have a simulated keyway to give the appearance of four- and six-inch width shakes placed together. The unique tile design of DaVinci Select Shake allows for faster installation than previous DaVinci single- and multi-width products.
"In 2016 we updated our slate products to make them more realistic looking and this year we've done the same thing for our shake offering by launching the new DaVinci Select Shake," says Michael Cobb, president and chief marketing officer of DaVinci Roofscapes. "If someone is looking for a jumbo shake look, we'd suggest our Bellaforté Shake product. However, if someone is searching for a multi-width shake tile with a truly authentic and traditional shake profile, then we'd recommend the new DaVinci Select Shake product."
Authentic Shake Appearance
The new DaVinci Select Shake product line comes in eight color blends, including Autumn, Chesapeake, Mountain, Tahoe and Weathered Gray. The additional three color blends come from the Nature Crafted Collection and include Aged Cedar, Black Oak and Mossy Cedar. Introduced in 2018, the Nature Crafted Collection colors reflect different progressive aging processes found on real shake shingles. These colors recreate the natural warmth and softness of a patina previously only created by time and exposure to the elements.
DaVinci Select Shake products are currently undergoing testing and are expected to meet the same testing classifications as with other DaVinci roofing products. The tiles are backed by a Lifetime Limited Warranty and resist fading, rotting, cracking and insects.
"As we enter our 20th year of manufacturing composite roofing materials we continue fine tuning our product offerings," says Cobb. "DaVinci Select Shake results from our desire to constantly 'make a good thing better.' We're excited to provide visual versatility to meet aesthetic vision and budget."
With the addition of the DaVinci Select Shake product line, DaVinci now offers four composite shake tile options: DaVinci Multi-Width Shake, DaVinci Single-Width Shake, Bellaforté Shake and DaVinci Select Shake.
The experienced team members at DaVinci Roofscapes develop and manufacture industry-leading polymer slate and shake roofing systems with an authentic look and superior performance. DaVinci leads the industry in the greatest selection of colors, tile thickness and tile width variety. The company's reliable products have a limited lifetime warranty and are 100 percent recyclable. All DaVinci high-performing roofing products are proudly made in America where the company is a member of the National Association of Home Builders, the National Association of Roofing Contractors, the Cool Roof Rating Council and the U.S. Green Building Council. For information call 1-800-328-4624 or visit http://www.davinciroofscapes.com.