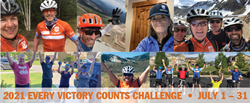 "Not only does every victory count, but every story counts. Every story needs to be told. And every story needs to be listened to," said David Peter, a 2020 Every Victory Counts Challenge Participant.
LOUISVILLE, Colo. (PRWEB) May 04, 2021
Virtual Event For All Abilities Supports People with Parkinson's
Save the date! July event celebrates every ride, run, walk, dance, yoga practice and more
The countdown is on! The second annual Every Victory Counts Challenge for 2021 will be held during the entire month of July. Registration kicks off on Monday, May 3.
This virtual event celebrates every victory, big and small, and highlights the importance of exercise to living well with Parkinson's. Participants can create their own challenge for the month and choose to run, cycle, log walking miles, dance, box, swim or any combination of activity to join in the virtual event. The event welcomes with open arms everyone from ultra-runners to people who want extra motivation to walk around their block every day. Participants can earn entries in the Finish Line Prize Pool just by completing their challenge or participating in mini challenges throughout the month.
Join a team, or gather your friends and start your own. 100% of funds raised will directly support programs and quality of life research that helps people with Parkinson's and their care partners live their best lives today.
Participants can measure their personal challenge in miles, minutes or metrics. This year's participants will receive a race pack including a Team TPF neck gaiter, finish line tape, a Team DPF sticker packet, an event bib, and more.
This virtual event is inspired by Davis Phinney's personal mantra, "Every victory counts." A mantra that applied to his years as the winningest professional cyclist in the US, the phrase now inspires him and others living with Parkinson's to celebrate the wins big and small – from staying active, eating right, and staying socially connected to buttoning a shirt or completing household chores (like Davis's favorite – vacuuming.)
"Not only does every victory count, but every story counts. Every story needs to be told. And every story needs to be listened to," said David Peter, a 2020 Every Victory Counts Challenge Participant.
We can't wait to participate alongside you and your friends and family members.
Event sponsors include Amneal and Catrike. To earn more about sponsorship opportunities, contact Rebecca Reifel at rreifel@dpf.org.
=======
Event details:
STARTS: Registration for the virtual event opens on May 3. Event and challenge starts July 1 and lasts the whole month.
REGISTRATION: Register at Every Victory Counts Challenge. Registration is a $25 donation, and you'll receive a custom, limited-edition Team DPF neck gaiter while supplies last. Can't participate? You can support the cause with a donation to help people with Parkinson's live well at the same link.
JOIN: We have a virtual Facebook village called Every Victory Counts Challenge Race Village. Your event hosts keep the month engaging and fun through the Race Village and weekly videos sent in participant emails.
CHOICES: Are you a boxer? Runner? Do you practice yoga? Bike every day? Swim? Dance? Do 10 push-ups per day? You have the full month of July to complete your own challenge, set by YOU. Or participate in a challenge alongside one of our celebrity team captains. If you gather with a team or establish your own, challenge one another to get it done. Do it all at once or across the whole month.
HOW: You choose minutes, miles, distance or other. Ongoing incentives and challenges are available, but up to you! Everyone is welcome, but for people who miss in-person sporting events, this is a great way to bridge into our new normal.
PRIZE POOL: Complete your challenge and optional mini challenges through the month for entries into the FInish Line Prize Pool. By entering the Prize Pool, you can win the grand prize, a Davis Phinney Foundation Catrike!
The Davis Phinney Foundation was founded by Olympic cyclist Davis Phinney in 2004 to help people with Parkinson's live well today. The organization's focus is to provide programs and resources that offer inspiration, information and tools that enable people living with Parkinson's to take action that can immediately improve their quality of life. Parkinson's is the No. 2 neurodegenerative disease– second only to Alzheimer's – and affects more than 1 million people in the United States. The Foundation's work impacts hundreds of thousands of individuals and families each year. It is headquartered in Louisville, Colo.
CONTACT: Rebecca Reifel | Events and Development Manager
720-259-8387 | rreifel@dpf.org