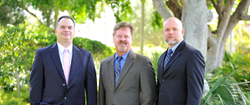 West Palm Beach, FL (PRWEB) August 11, 2017
Davis, Giardino & Hrivnak, P.A., a boutique law firm with two Florida offices that is known for delivering personalized service in an increasingly impersonal industry, recently launched a new website. "We wanted to increase the resources available to our clients through our website, while at the same time placing even greater emphasis on the personalized service that is our trademark," said Richard A. Giardino, managing partner of Davis, Giardino & Hrivnak, P.A., who defends clients in multiple areas of tort including wrongful death, defamation and all forms of negligence.
In addition to its new website, Davis, Giardino & Hrivnak, for the first time in its 17-year history, has a social media presence on Facebook, Twitter and LinkedIn, illustrating the benefits of boutique firms over large law firms.
"The value we create for our clients and carriers is born from the personal attention that only a small firm can provide," noted Giardino. Added attorney Wayne Hrivnak, "At DGH, you will know the attorney handling your case, from inception to closure, and always have direct access."
Furthermore, according to a study of future trends in the legal profession by Deloitte, the larger, conventional law firms are no longer meeting today's business needs. The majority (55%) of participants in the study (legal counsel, general counsel – or CEOs and CFOs) have taken or are considering a significant review of their legal suppliers.
"Superior communication with a client that only a small firm can provide allows us to step into the shoes of the client and provide a much more effective defense strategy," concluded Brent Davis, a founding partner of Davis, Giardino & Hrivnak, P.A.
About Davis, Giardino & Hrivnak, P.A.
Davis, Giardino & Hrivnak, P.A. focuses on negligence defense, defamation defense, commercial litigation defense, employment discrimination defense and business transactions. For more information, please call the South Florida office, 201 Arkona Court, West Palm Beach, FL 33401, at (561) 514-0305, the West/Central Florida office, 9040 Town Center Parkway, Bradenton, FL 34202, at (941) 388-8234, or visit http://www.davis-giardino.com.
About the NALA™
The NALA offers small and medium-sized businesses effective ways to reach customers through new media. As a single-agency source, the NALA helps businesses flourish in their local community. The NALA's mission is to promote a business' relevant and newsworthy events and achievements, both online and through traditional media. The information and content in this article are not in conjunction with the views of the NALA. For media inquiries, please call 805.650.6121, ext. 361.