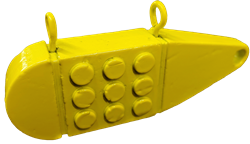 PITTSBURGH (PRWEB) May 03, 2021
Davison Inventions continues to help innovative minds from around the world bring their ideas for useful products to life. As summer approaches and fishing enthusiasts all over begin to cast their lines again, Davison is highlighting one of its newest products—The Snag Buster—to give fishermen and women everywhere an assist when out on the water this year.
Some of the best places for fishing are secluded areas with lots of shade and cover provided by trees, brush, rocks, algae, and other natural obstacles. While these are great food-finding areas for fish, they also present many opportunities for anglers to snag their lines. This can often be the difference between going home with a catch-of-the-day and losing a favorite lure.
When sending a lure into the habitat area of fish, the likelihood of a snag rises dramatically. This risk increases further when a fish is actually hooked on the line, which causes them to usually dart back into a secluded area with even more underwater debris and foliage. Should the fish finally escape by diving down deep or far away enough, both the lure and fish could be lost for-ever.
The Snag Buster can save a favorite lure from never coming back again. Many fishing enthusiasts love passing down their lures to their children or grandchildren, and this product will ensure that moment gets to happen regardless of any future snags. The Snag Buster pays for itself over and over again by saving hobbyists the cost of replacement lures.
Though snags can be stressful, the Snag Buster's easy-to-use design makes retrieving a snagged lure almost as fun and satisfying as fishing. Simply tie the Snag Buster to a rescue line, pull the snagged line as taut as possible, then hook the Snag Buster on and let gravity do the rest of the work.
More About Davison Inventions
The Snag Buster is just one of Davison's success stories. The company has aided its clients with conceptualizing, designing, developing, and licensing products for the past 30 years. Although the typical client project is not sold in stores, Davison's products and its clients 'products have sold in more than 1,200 online stores and retailers. The company has also won several design awards for its product designs.
"Davison has a very effective way of presenting new products to our firm," a representative of Koller Enterprises, Inc. said of the company. "They truly understand what is needed when considering a new product. We value the open line of communication that we have with a corporation of their caliber."
For over 30 years, Davison Inventions has helped new and seasoned inventors to transform their ideas from a thought to a finished product. Our industry innovation has broken the barrier for our clients, resulting in an industry-leading number of products for sale in both online and brick and mortar stores across the globe. Contact Davison Inventions today or call 1-800-544-3327 to start bringing your idea to life.
The inventor of the Snag Buster has not realized a net profit on his invention.