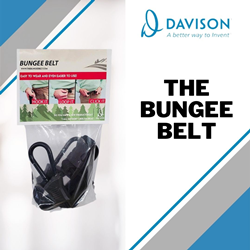 PITTSBURGH (PRWEB) March 15, 2021
Davison Inventions helps clients bring about solutions to everyday problems, taking their ideas through all the stages of the design process. Now, the company is proud to feature a new product: The Bungee Belt—an invention that solves the problem of making sure your pants stay in place for those who move around frequently.
Unfortunately, belts found in typical fashion stores do not perform well enough for individuals regularly lifting heavy objects, doing yard work, or partaking in strenuous physical activities. When these belts do keep the wearer's pants in place, they do so at the cost of flexibility and comfort.
The Bungee Belt solves these problems through durable and dependable performance, with enough flexibility to move around comfortably outdoors or indoors. It is made up of two extra-wide flat bungee cords, a quick-release clip that attaches the two cords, and two aluminum carabiners that connect the cords to the wearer's belt loops. This last part ensures that the belt and pants stay in place no matter how much bending or stretching one does.
The idea for the product came to an inventor and Davison executive named Gordon in 2019 while he was preparing his backyard for a rough winter. While cutting down trees and doing yard work, Gordon became exasperated with a single problem: his pants kept sliding down as he was working. In an attempt to solve this issue quickly, he grabbed a bungee cord from his nearby tools and used it as a belt.
From there, the concept for the Bungee Belt was born. With the help of his fellow Davison employees, Gordon was able to successfully bring the Bungee Belt to market. Boasting the slogan "work hard, play hard," the Bungee Belt can be used in any situation where the wearer needs sturdy support and a little flexibility. It is an ideal fit for yard work, hunting, and numerous recreational purposes.
More About Davison Inventions
The Bungee Belt is just one of Davison's success stories. The company has aided its clients with conceptualizing, designing, developing, and licensing products for the past 30 years. Although the typical client project is not sold in stores, Davison's products and its clients' products have sold in more than 1,200 online stores and retailers. The company has also won several design awards for its product designs.
"Davison has a very effective way of presenting new products to our firm," a representative of Koller Enterprises, Inc. said of the company. "They truly understand what is needed when considering a new product. We value the open line of communication that we have with a corporation of their caliber."
For over 30 years, Davison Inventions has helped new and seasoned inventors to transform their ideas from a thought to a finished product. This industry innovation has broken the barrier for our clients, resulting in an industry-leading number of products for sale in both online and brick and mortar stores across the globe. Contact Davison Inventions today or call 1-800-544-3327 to start bringing your idea to life.