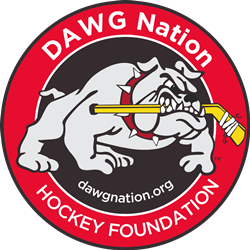 The plan is for this Rink to not only be a thriving community-centric facility, but to also become the premier sled/adaptive hockey facility in the nation, supporting athletes from around the world...
DENVER (PRWEB) October 27, 2020
DAWG Nation Hockey Foundation, a 501(c)(3) nonprofit charity, has confirmed several large private donations along with a highly-favorable feasibility study conducted by Sports Facility Advisory (SFA) has allowed the commencement of Phase-1 design activities for the new hockey facility to be located in the City of Castle Pines, CO.
The project scope for the design and construction of the new facility has been broken into several 'Phases' which allow the management of all the necessary project goals and set the timeline for the overall design/build. Phase-1 will include a variety of necessary preliminary activities needed to begin development of the project. Phase-1 includes:
Site Survey

Soils Testing
Site Development & Build Adaptations
Schematic Design

Layout & Floor-plans
Building Elevations
Space Allocations
System Selections
Design/Development

System Planning
Detailed design
Cost Estimations & Planning
"The plan is for this Rink to not only be a thriving community-centered facility, but to also become the premier sled/adaptive hockey facility in the nation, supporting athletes from around the world," said Jack Mousseau, Principal at MOA Architecture, the firm tasked with design and development of the DAWG Nation rink project. "Phase-1 represents an important milestone in bringing this project forward out of the 'dream' stage and into reality."
DAWG Nation recently completed a thorough facility 'Feasibility Study' conducted by the renowned advisement group, SFA (Sports Facility Advisory - http://sportadvisory.com). Prominent aspects confirmed within the report were Year-1 sustainability, and over $1M in 'profits' by year 5, which is intended to be utilized by the non-profit to enable a nationwide projection of its mission supporting the hockey community, it's athletes, and families. You can view a copy of the SFA Feasibility Study on the Rink Project website (http://rink.dawgnation.org).
The support for the DAWG Nation Rink Project continues to grow both in commercial and private backing. Longtime DAWG Nation supporters Greg & Carol Ahbe, of the Ahbe Group/TAG Insurance (http://tagins.net) recently made a donation, in an undisclosed amount, which represents the largest private donation in the organization's history. Additionally, DAWG Nation has already secured over $11M in commitments, donations, and in-kind-trade agreements for the rink project, from more than 30 companies. Some of those notable partnerships include:

The City of Castle Pines (Land & Community Support)
MOA Architecture (Design)
Saunders Construction (General Contractor)
Martin/Martin (Civil Engineering)
ME Engineers (MEP Engineering)
Fiore and Sons (Excavation)
MTech (Mechanical Construction)
Becker Arena (Rink Materials & Support)
Skylight Specialists (Glass)
Encore Electric (Electrical Construction)
And Many Others…
"2019 was a terrific year for DAWG Nation, we announced the Rink Project and our community support, volunteering, and charitable giving at all-time highs…Then the COVID-19 pandemic hit, drastically changing the world for all of us." said Martin Richardson, DAWG Nation's Founder & CEO. "We decided to do our best, to move forward, despite all the obvious hurdles. We had already engaged SFA to do a Feasibility Study, and like many charities, despite best efforts we had to postpone and totally reimagine several fundraising events." Martin continued, "Amazingly though, even in these troubled times, the support and donations not only continued, but they actually grew, ultimately giving us record numbers in 2020!"
To celebrate the commencement of Phase-1, DAWG Nation has created an exclusive 'Founder's Wall' sponsorship opportunity. This premier-level sponsorship will include a framed customized jersey to be prominently displayed in the rink facility's main hall. Regardless of your support-level, DAWG Nation has strived to create a number of unique ways for both businesses and individuals to engage and sponsor this great community project. Signage and naming rights are still available for a variety of levels, as well as personalized entryway bricks, and the 'Puck Wall' will be filled with countless individual sponsors.
To find out more information on the DAWG Nation Rink Project and sponsorship opportunities, please visit: http://rink.dawgnation.org
About DAWG Nation
DAWG Nation Hockey Foundation is a 501(c)(3) nonprofit charity which believes in the power of ice hockey to benefit both able-bodied and disabled amateur ice hockey players, and their families dealing with crisis. We strive to give everyone opportunity to gain independence and confidence they need to perform in the face of adversity, on or off the ice. With the fantastic support of the ice hockey community we host and sponsor participation for athletes in a variety of national and international amateur ice hockey events, and we also provide aid and support to deserving candidates, in times of need. For additional information on DAWG Nation's mission, events, and opportunities to participate and donate, please visit http://DAWGNation.org. Play Hard. Play Fair. Give Back.