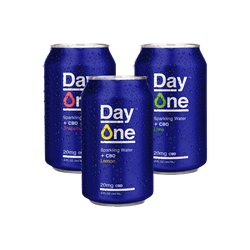 LOS ANGELES (PRWEB) January 19, 2022
Day One CBD sparkling water is pleased to announce that it has been named the exclusive and "Official CBD Partner of USA Pickleball" for a three-year term. First invented in 1965, the sport of Pickleball has experienced exponential growth over the last several years and is widely recognized as America's fastest growing sport. Pickleball has evolved from original handmade equipment and simple rules into a global sport, played throughout the USA and Canada, Europe, and Asia.
Celebrities and business magnets alike are picking up the sport as it continues to gain popularity. Pickleball participation grew 21% in 2020 and continued the rapid growth in 2021, with the nation's number of players expected to be well over 5 million once the Sports Fitness Industry Association's (SFIA) 2022 report is released. A recent article from Vanity Fair stated that Leonardo DiCaprio, Larry David, Melinda Gates, Jamie Foxx, the Kardashians, Owen Wilson, Jillian Michaels and Zach Braff are just a few that have picked up a paddle in the last year.
Day One's alignment with USA Pickleball, the governing body of the sport, offers the CBD drinks brand a chance to engage with professional and amateur players, along with sampling opportunities at tournaments throughout the country.
"With the rapid emergence of the sport, we are excited to align Day One with such an amazing community of athletes and enthusiasts of the game. Day One is excited to introduce its' efficacious & delicious line of CBD beverages with Pickleball athletes seeking post-match refreshment and recovery products," says Chris Clifford, Founder & CEO, of Day One Beverages Inc. "This is only just the beginning of our partnership with the Pickleball community. We are here to serve players around the country and look forward to releasing additional recovery products as our partnership expands," adds Clifford.
"USA Pickleball is excited to be announcing this partnership with Day One Beverages, Inc., one of the fastest growing CBD brands in the nation," said Stu Upson, USA Pickleball CEO. "This partnership comes at an exciting time as the sport continues to grow at an exponential rate and more than 5 million players seek the best products to aid in their athletic performance to keep them healthy and active on the courts. We look forward to what's to come at both a recreational and competitive level with this partnership in 2022."
About Day One
Day One offers clarity in a can, designed to get consumers ready for whatever they want to accomplish next. Each 12oz can includes 20mg of CBD, zero calories, 0% sugar and 100% natural fruit juice, to deliver a balanced and refreshing sparkling citrus drink for any occasion. Day One Lemon, Lime, and Grapefruit round out the brand's first flavors, with additional offerings planned for later in 2022. CBD is non-intoxicating and is legal throughout the United States. CBD is a hemp-based extract adaptogen with several potential health benefits, including increased energy levels, pain relief, improved focus, and anxiety relief. Day One tests its' products rigorously and test results are transparently displayed at DrinkDayOne.com/Pages/Test-Results. Try Day One's lemon, lime, or grapefruit CBD sparking waters-- clarity, calm, and ideal hydration for your next drink. Day One is available with an SRP of $2.99 per 12oz can in select retailers. Day One also offers 12-packs at $35.99 through its' direct-to-consumer website DrinkDayOne.com For additional information and to purchase, please visit DrinkDayOne.com and be sure to follow Day One on Instagram @DrinkDayOne.
About USA Pickleball
The USA Pickleball Association, a non-profit 501(c)(3) was established in 2005 to further the advancement of the sport on a national level. As the official governing body of pickleball in the United States, USA Pickleball promotes the growth of pickleball by maintaining the rules, setting player ratings, advancing the sport through its national network of 2,000+ ambassadors, and sanctioning tournaments. Since 2013, USA Pickleball membership has grown 1,250% in its membership to nearly 54,000. More information can be found at usapickleball.org.