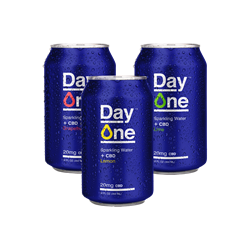 LOS ANGELES (PRWEB) October 06, 2021
Day One CBD Sparkling Water returns this Fall as it debuts a new line of drinks with a recharged executive team under new ownership. Day One is a refreshing sparkling CBD water meant to add some clarity to daily routine and will be available in a variety of retail locations across Texas, Ohio, Tennessee, Oklahoma, Kansas, Illinois, and California. In addition, Day One is available for purchase with nationwide shipping via DrinkDayOne.com. Day One Lemon, Lime, and Grapefruit round out the brand's first flavors available this Fall, with additional offerings planned for 2022.
Day One offers clarity in a can, designed to get consumers ready for whatever they want to accomplish next. Each 12oz can includes 20mg of CBD, zero calories, 0% sugar and 100% natural fruit juice, to deliver a balanced and refreshing sparkling citrus drink for any occasion.
"We are thrilled to bring Day One back. Over the last year, the team and I have been working tirelessly to make this brand available to the masses yet again. It is rare you get another shot at relaunching an incredible product and we are back stronger than ever with an improved formulation and best-in-class team of beverage veterans. With Day One, our goal is to create an accessible offering from top to bottom, which includes everything from our formula to our messaging, to the price point," says Chris Clifford, CEO of Day One. "The aim is not only to make a delicious and holistically refreshing drink, but also to bring the wellness benefits of CBD to all. We believe CBD beverages can become a new classic category, a part of millions of people's daily routines, and think that beverage is an accessible product format to do just that."
Chris Clifford originally launched the brand in August of 2019 but, due to some internal issues within the brand's former parent company, was forced to take the brand offline. In 2021, Clifford purchased Day One from its former owners, resetting and restructuring the brand on his own terms and with new financing. To support his efforts, he has brought on a variety of industry veterans including Chris Alfieri, COO, and Andy LaRocca, VP of Sales and Distribution, both previous Red Bull vets (18+ years). Alfieri and LaRoca will serve on Day One's executive team, alongside other key hires who will support the brand's rapid expansion nationwide. Day One will be supported in the market by a robust marketing spend, including elements featuring print and digital advertising, out of home, in-store POS & Trade Marketing, social media influencer marketing, events, and traditional public relations support.
The idea behind Day One was to create two things: a next-level sparkling water using natural ingredients like CBD and fruit juice, and a dynamic brand which reminds people that starting doesn't have to be daunting. Now, Day One serves as a vehicle to help consumers turn CBD into an everyday wellness habit. The CBD space at present seems more focused on capitalizing on hype than trying to make connections with consumers, while Day One is meant to become a part of the routine of people determined to get things done. The result is a refreshing drink that facilitates a balanced mindset and gets you ready for your next beginning -- whether it's making it through Monday or getting that side hustle off the ground.
CBD is non-intoxicating and is legal throughout the United States. CBD is a hemp-based extract adaptogen with several potential health benefits, including increased energy levels, pain relief, improved focus, and anxiety relief. While CBD is effective in inhalable and edible forms, Day One believes that beverage consumption is a more approachable product format and provides greater consistency in terms of CBD dosage and overall efficacy. Day One tests its' products rigorously and test results are transparently displayed at DrinkDayOne.com/Pages/Test-Results.
Day One will be available with a SRP of $2.99 per 12oz can. This retail pricing stands out given that Day One is $1-$2 less than leading brands in the market. Clifford justifies this pricing by saying "in order to reach a broader market and introduce CBD products to mainstream canna-curious consumers, CBD beverages need to be priced accessibly." The brand will also offer 12-packs at $35.99 & 6-pack variety cases at $17.99 through its' direct-to-consumer website DrinkDayOne.com
For additional information and to purchase, please visit DrinkDayOne.com and be sure to follow Day One on Instagram @DrinkDayOne.