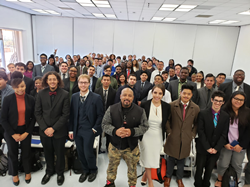 "Year Up is an incredible program, and one that I wish was available to me when I went through a hard period in my life when I was younger. The opportunities they provide are limitless, but start with the fundamentals of giving them a chance they otherwise would not have had." - Daymond John
LOS ANGELES (PRWEB) February 14, 2019
American businessman, investor, and television personality, Daymond John, visited the nonprofit Year Up Los Angeles on February 11th to greet the incoming class with a motivational speech and Q&A.
Located on the campus of West Los Angeles College, Year Up Los Angeles provides motivated young adults with in-demand technical and professional skills training, college credits and internships at top companies in Southern California. The program is free for participants and includes a weekly financial stipend, as well as full access to college resources.
John is an original cast member of ABC's four-time Emmy Award-winning series, Shark Tank, where he is currently in the midst of his 10th season. John is widely recognized for his accomplishments as an entrepreneur and branding expert following the success of his groundbreaking lifestyle brand, FUBU®. He was named a Presidential Ambassador for Global Entrepreneurship under the Obama Administration and is a two-time New York Times Best Selling Author, most recently for his book Rise and Grind. John remains committed to helping aspiring entrepreneurs, which landed him the affectionate nickname of "The People's Shark." In recognition of his impact in the entrepreneurial space, John has been bestowed the NAACP Entrepreneurs of the Year Award, the Congressional Achievement Award for Entrepreneurship and more.
"Year Up is an incredible program, and one that I wish was available to me when I went through a hard period in my life when I was younger. The opportunities they provide are limitless, but start with the fundamentals of giving them a chance they otherwise would not have had," John said. "The time I got to spend on campus was amazing and I am so impressed by the amount of young people with vision and ideas they have, and have no doubt they will play a key role in bringing us our next wave of sharks."
John's speech focused on his rags-to-riches success story to inspire Year Up students to pursue their dreams through sacrifice, hard work, and perseverance. He also shared his unique goal setting and achieving strategies to help empower students to make positive changes in every aspect of their lives for immediate and long-term success.
John is preparing to release his upcoming album, Shark Motivation, to inspire entrepreneurs and rising leaders like Year Up's young adults. According to John, "Your goals, passions, and successes are based on your drive, hustle, and patience. The album aims to motivate your heart and mind to remain driven even when you're detoured."
The second single "Boss Up" will be out on February 20th, and the album is set to come out in spring 2019.
Since its launch in the fall of 2016, Year Up Los Angeles has helped more than 350 young adults access careers in business and technology at companies such as Hulu, Kaiser Permanente, Snap and Wells Fargo. A recent federally-sponsored Pathways for Advancing Careers and Education (PACE) evaluation of Year Up showed a 53% increase in initial earnings for young adults randomly assigned to Year Up compared with similar young adults in a control group—the largest impacts on earnings reported to date for a workforce program tested in a randomized controlled trial. Learn more about Year Up Los Angeles by visiting us on Facebook.
About Year Up
Year Up is an award-winning, national 501(c)3 organization that provides talented and motivated young adults ages 18-24 with the skills, experience, and support that will empower them to reach their potential through professional careers and higher education. Through a one-year, intensive training program, Year Up utilizes a high-support, high-expectations model that combines marketable job skills, stipends, coursework eligible for college credit, and corporate internships at more than 250 top companies. Its holistic approach focuses on students' professional and personal development to enable young adults with a viable path to economic self-sufficiency and meaningful careers. Year Up has served more than 19,500 young adults since its founding in 2000, and will serve more than 4,000 young adults in 2018 across 21 U.S. cities in Arizona, Baltimore, Bay Area, Chicago, Dallas/Fort Worth, Greater Atlanta, Greater Boston, Greater Philadelphia, Jacksonville, Los Angeles, National Capital Region, New York City, Providence, Puget Sound, South Florida, and Wilmington. Year Up has been voted one of the "Best Non-Profits to Work For" by The NonProfit Times for eight consecutive years, and rated a 4-star charity by Charity Navigator for twelve consecutive years, placing them in the top 1% of tracked organizations.
To learn more, visit http://www.yearup.org, and follow us on LinkedIn, Facebook, and Twitter: @YearUp