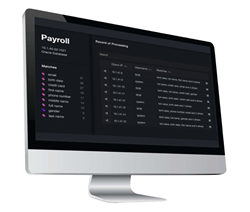 This is truly changing the structured data security and privacy landscape
SAN DIEGO (PRWEB) February 20, 2019
DB CyberTech, a pioneer in machine learning based predictive data loss prevention, today announced that it has obtained a significant patent associated with the non-intrusive extraction of layer 7 structured data from a communications link. The issuance of this EU patent further strengthens DB CyberTech's existing intellectual property portfolio regarding structured data security and privacy.
"We are pleased to be awarded this patent as validation of the novel technology and platform we are delivering to our partners and customers – including many of the world's largest financial service companies", said DB CyberTech's CTO for Products, David Rosenberg.
The patent for EU invention number 2810412 is used to create a behavioral model of structured data traffic. The models produced from the extracted structured data are used to immediately identify personal data and other high-value data, structured data infrastructure anomalies, and insider threats. Previously these critical structured data infrastructure issues were opaque to network and security operations personnel.
"We're able to faithfully extract complete client-server conversations from the data tier to provide unprecedented discovery and security services based on the innovation covered by this patent", said DB CyberTech's CTO for Architecture, Eric Varsanyi. "This is truly changing the structured data security and privacy landscape".
Today's information security environment demands deep insights for real-time detection of advanced threats including the illusive insider threat. DB CyberTech's data security and privacy products are field proven to accurately predict and alert when structured data loss is imminent –¬ enabling data loss to be prevented. This is a completely new paradigm for data loss prevention and was designed to eliminate dwell time – ensuring the integrity of mission critical data. Enterprises can now proactively respond to threats before their data is lost or modified rather than reacting months after the event in an attempt to determine how much of their data was stolen.
About DB CyberTech
DB CyberTech innovates predictive data loss prevention for structured data. Its customers include financial institutions, healthcare providers, manufacturers, and governments. DB CyberTech's technology non-intrusively assesses client to database conversations through deep protocol extraction, machine learning, and behavioral analysis. Customers gain insights by discovering information assets including sensitive data, identifying tables being accessed, and mapping the specific applications accessing the structured data stores. In addition, machine learning technology immediately pinpoints and alerts to security threats before data is stolen. DB CyberTech is a privately held company headquartered in San Diego, Calif. For more information, call (800) 598-0450 or visit the company's website at http://www.dbcybertech.com